This is an archived article and the information in the article may be outdated. Please look at the time stamp on the story to see when it was last updated.
Three people who were found dead amid the wreckage of a crash over the side of Angeles Crest Highway have been identified as the teenagers who had been missing out of Fontana, Los Angeles County Coroner's officials said Tuesday evening.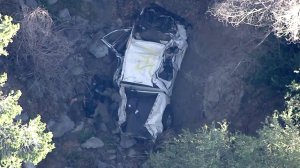 The bodies were removed from the crash site shortly before 9 a.m. Tuesday, more than 15 hours after authorities located a white truck that had plummeted some 900 feet down the highway above Altadena.
Lt. Kelly Yagerlener, with the coroner's office, said they were Daniel Gamboa, 19, Kasey Vance, 18 and Samantha Ornelas, 17, and their families had been notified.
Earlier Tuesday, authorities confirmed that a pickup truck found at the crash site belonged to Gamboa. The teens were reported missing on Monday after not returning from a hike late Saturday.
Although the license plate was found to have matched the vehicle Monday evening, authorities did not confirm it was Gamboa's until Tuesday around 2 p.m.
The trio was possibly headed to Mount Wilson, police said. Mile marker 40, which is near where the truck was discovered, is within a few miles of the turnoff to Mount Wilson.
Authorities recovered the bodies after a lengthy operation that lasted overnight.
Speed may have been a factor in the crash, but investigators do not believe any other cars were involved, the Los Angeles Times reported.
A helicopter first found the tailgate around 5 p.m. and eventually located the truck, according to a Los Angeles County Sheriff's air rescue crew official.
The chopper, which had been searching the highway between Lytle Crew and La Canada Flintridge all day, had been called in to search the ravine after a ground crew discovered skid marks on the road, the official said.
Later that evening, the Los Angeles County Fire Department confirmed three fatalities at the scene.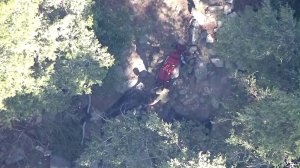 A stretch of the Angeles Crest Highway was completely shut down Tuesday morning to accommodate personnel from multiple agencies aiding in the recovery effort, according to CHP Sgt. Jose Nunez.
Two search and rescue personnel remained at the scene all night to protect the crash site, Nunez added.
Investigators were still trying to piece together what happened to the teens.
Gamboa's credit card was used in Rancho Cucamonga after midnight on Sunday, while Ornelas' cellphone apparently pinged a cellphone tower near Mt. Wilson sometime after that, officials said.
The investigation remained ongoing.
A GoFundMe page has been set up for the family of Daniel Gamboa.
KTLA's Nidia Becerra Contributed to this story.