This is an archived article and the information in the article may be outdated. Please look at the time stamp on the story to see when it was last updated.
Authorities Tuesday released a composite sketch of one of three men suspected of kidnapping and sexually assaulting a 15-year-old girl in the western San Gabriel Valley.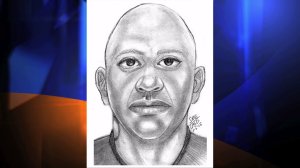 The incident began about 6:30 p.m. Friday in the 600 block of Van Wig Avenue (map) in the unincorporated community of Bassett between La Puente and Industry.
Officials had initially said the crime occurred Saturday, but the day was corrected in a Los Angeles County Sheriff's Department news release.
As the girl was walking, a vehicle drove a few feet past her and stopped, and then two men got out of the car and a third man remained in the driver's seat, according to the statement.
When the victim walked past the two men, they grabbed her from behind and pulled her into the vehicle, the Sheriff's Department said.
The girl told investigators she was sexually assaulted before being released by her attackers, who then drove southbound on Van Wig and out of sight.
The men who exited the car are said to be Hispanic and in their mid-20s.
One of them is depicted in the composite sketch. He is described as 5 feet 9 inches tall, weighing 200 pounds, bald, with a circular tattoo on the right side of his neck.
After the assault, he "pulled the victim out of the vehicle and threatened to hurt her if she told anyone what happened," the news release said.
The second man is said to be 6 feet tall, 180 pounds, with short, buzzed hair.
No description of the third man was provided Tuesday. Authorities had previously described him as Hispanic.
The car being sought in the case is a black four-door 1990s Honda Civic with a partial license plate No. of "2WE****." It has tinted windows and a leather interior.
Anyone with information is encouraged to call the sheriff's Special Victims Bureau at 877-710-5273. Those who wish to remain anonymous may call L.A. Crime Stoppers at 800-222-TIPS (8477), or text TIPLA plus the tip to 274637 or visit LACrimeStoppers.org.