This is an archived article and the information in the article may be outdated. Please look at the time stamp on the story to see when it was last updated.
Officials have released surveillance video showing the moments before a man stabbed another passenger on a public transit bus in East Los Angeles in hopes of identifying the perpetrator.
The attack occurred, seemingly completely unprovoked, on Montebello Bus Lines' Route 10 around 10:15 a.m. Monday, the Los Angeles County Sheriff's Department said in a news release. The route travels largely down Whittier Boulevard, shuttling passengers between Whittier and Monterey Park.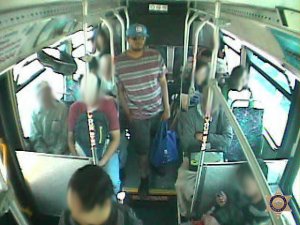 While the bus was headed west in the 5700 block of Whittier Boulevard, one man suddenly pulled out a knife and stabbed another man several times in his upper torso, deputies said.
In the footage released Tuesday, the suspect can be seen riding the bus while standing in the center aisle, appearing calm until he pulls a blade from his pants and aggressively lunges toward another passenger. A motive in the incident is unknown.
The victim was left in critical condition and is not expected to survive, according to sheriff's officials. He is currently receiving treatment in a hospital, but a news release from Monday described him as "death imminent."
The wounded man has not been publicly identified, and authorities only described him as a Latino man in his mid-20s.
Following the attack, the aggressor got off the bus and ran, deputies said.
He is described as a Hispanic man in his mid-30s to early 40s, about 6 feet tall and weighing around 175, according to the Sheriff's Department. In the video he is seen wearing a blue-and-orange shirt with green shorts and a baseball cap.
Investigators asked anyone who was riding the bus at the time of the attack to share any information they may have about the incident.
Sheriff's homicide detectives can be reached at 323-890-5500, or tips can be submitted anonymously via Crime Stoppers at 800-222-8477.