This is an archived article and the information in the article may be outdated. Please look at the time stamp on the story to see when it was last updated.

Fourteen people were killed and 17 wounded after shooters armed with long guns opened fire inside the Inland Regional Center in San Bernardino Wednesday, and two suspects were killed in a later shootout with officers following a police pursuit.
Hours after the mass shooting, a man and woman armed with assault rifles and handguns were involved in a pursuit that led to an exchange of gunfire with officers, police said. The two suspects, who were wearing "assault-style clothing," were dead, San Bernardino Police Department Chief Jarrod Burguan said at a Wednesday evening news conference.
Burguan identified the deceased suspects as Syed Rizwan Farook, 28, who was born in the United States, and Tashfeen Malik, 27.
The police chief said Farook had been employed for five years by the San Bernardino County Department of Public Health, where he worked as an environmental specialist. Additional information about Malik was not immediately available.
Investigators received information indicating that Farook and Malik were either married or engaged, according to Burguan.
"There was a relationship," the police chief said.
A call of multiple shots fired first came in at 10:59 a.m. from the area of 1365 S. Waterman Ave. The Police Department's SWAT team was training nearby and was suited, "ready to roll" and responded rapidly, Lt. Richard Lawhead said.
Up to three suspects were believed to have fled the scene, possibly in a dark-colored SUV, Burguan initially said.
Several hours later, authorities were investigating tips that led them to a home in Redlands. A vehicle that was seen leaving the area was suspected of being involved, and police chased the SUV to San Bernardino, about 2 miles from the initial shooting scene. In the 1700 block of San Bernardino Avenue, the vehicle stopped and officers fired upon it, Burguan said.
The two people who were in the vehicle — Farook and Malik — were killed, Burguan said. About 20 officers were involved in the shootout, one of whom was injured, the chief said. His wounds were not considered life-threatening.
The whereabouts of Farook and his wife had been unknown to family members since Wednesday morning, according to Hussam Ayloush, executive director of the Council on American Islamic Relations' L.A.-area office.
The organization hosted an evening press conference attended by Farook's brother-in-law, Farhan Khan.
"I have no idea why he would do something like this. I have absolutely no idea," Khan said, adding that he spoke to Farook a week ago. "I am in shock myself."
The two suspects were armed with AR-15 assault rifles, pistols and many magazines of ammunition, an agent with the federal Bureau of Alcohol, Tobacco and Firearms told KTLA.
Another person was detained after being seen running away from the SUV, but it wasn't known if that individual was involved, according to the chief. Police were still working to determine if there were three people involved in the shooting.
"We are going to try to continue to identify if there is a third person involved, or potentially even more people that might have been involved in the planning, " Burguan said.
David Bowdich, assistant director of the FBI's Los Angeles Field Office, initially said authorities do not know if the shooting is a "terrorist incident." FBI agents were cautiously continuing to work at the Redlands home after dark, Bowdich said.
"I know one of the big questions that will come up repeatedly is: Is this terrorism? I am still not willing to say that we know that for sure," Bowdich said. "It is a possibility … but we don't know that yet."
A county employee told KTLA he received a call from his daughter as she huddled in a bathroom while hearing gunfire. He said the shooting was inside a holiday or awards party attended by San Bernardino County employees.
The "Christmas-party type (of) event" was attended by Farook, who "did leave the party early under some circumstances that were described as angry or something of that nature," Burguan said. Authorities were following up on that information when they encountered Farook near the home in Redlands, according to the police chief.
The victims at the Inland Regional Center seemed to all be in one area of the facility, which hosts both state and county employees, as well as a number of organizations, Burguan said.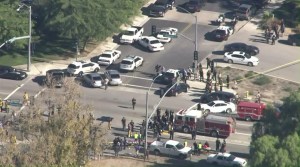 Video from the scene showed multiple people being placed on stretchers amid a triage area on the street. People were seen being escorted away from the shooting scene.
Burguan said that preliminary numbers indicated upwards of 14 people were killed and more than 14 were injured in the shooting at the Inland Regional Center, which he called a "massive facility."
Later in the afternoon, a police spokeswoman said the number of injured had increased to 17.
If the number of dead remains at 14, the mass shooting could prove to be the deadliest in the U.S. since 20 children and six staff members were killed by gunman Adam Lanza at Sandy Hook Elementary School in Newtown, Connecticut, in 2012.
Teams found items that caused concern while searching the Inland Regional Center, but it wasn't known if the objects were brought in by the shooters, Burguan said. The search — involving a bomb squad — of the center was continuing after dark.
As the active shooting situation unfolded, sheriff's officials were warning people to avoid the area.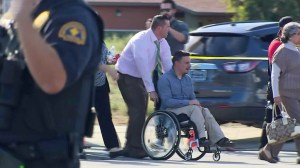 Five adult patients were being treated at Loma Linda University Medical Center, a hospital spokeswoman said. Two were in critical but stable condition, two were in fair condition, and one was still being assessed as of about 5 p.m.
A bomb threat that was called into the hospital Wednesday afternoon prompted a K-9 search, and the "code yellow" alert was called off after about an hour.
Arrowhead Regional Medical Center was treating six patients, according to a tweet from the county.
It was unknown how many people were in the Inland Regional Center at the time of the incident.
Nearly 670 staff members at the center provide services to 30,200 people of all ages with developmental disabilities and their families in San Bernardino and Riverside counties, according to the center's Facebook page.
Dave Hall, whose daughter goes to the facility, told KTLA that the center is used by those with mild to severe autism.
"Who would think of such a thing to make an attack at that kind of facility?" Hall said.
The motive for the shooting was under investigation, according to San Bernardino police.
"We have not ruled out terrorism," Burguan said.
An emergency Board of Supervisors meeting was canceled and the building where the meeting was set to be held was evacuated, authorities on scene said. Nearby city and county facilities were closed, as were courthouses, county Sheriff John McMahon said.
All San Bernardino city schools were put on an hourslong lockdown that was lifted shortly after 4 p.m., the school district said in a statement.
Anyone with information may leave anonymous tips by calling the We-Tip hotline at 1-800-782-7463.
This slideshow requires JavaScript.