This is an archived article and the information in the article may be outdated. Please look at the time stamp on the story to see when it was last updated.
Authorities on Tuesday searched a Granada Hills neighborhood for hours for a black bear that ran through backyards and across a golf course after climbing a 50-foot tree near a church and school.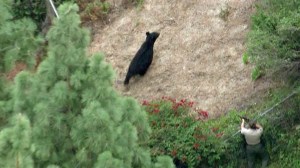 The bear was eventually tranquilized and transported by state wildlife wardens just before 6 p.m. following an intermittent pursuit that began some 11 hours earlier.
Los Angeles Police Department officers and California Department of Fish and Wildlife officials responded about 7 a.m., when the bear was initially spotted at the Episcopal Church of St. Andrew & St. Charles, located in the 16000 block of Rinaldi Street (map), in the northern part of the San Fernando Valley.
Officers were seen escorting schoolchildren to bungalows at a safe distances from the bear, which had been tagged behind its left ear, indicating a previous encounter with humans.
The animal remained in the tree for more than an hour as officials weighed multiple options to compel him to come down.
It finally climbed down after an LAPD helicopter hovered close enough for its rotor wash to rattle the tree's branches. The animal then fled, despite apparently being shot with a tranquilizer dart, bounding onto the Knollwood Golf Course.
Authorities on foot and overhead gave chase, but the subject proved elusive for several hours. The bear was again spotted at about 5 p.m. running across the golf course.
Wardens and television news cameras were pursuing the animal through the residential neighborhood, and the bear appeared to stumble on a hillside after being again hit by a tranquilizer dart.
Wardens and LAPD officers recovered the animal after it passed out under a bougainvillea bush in the backyard of a home on Knollwood Drive at Susan Drive, dragging it up the hill, aerial video showed.
Wildlife officials on scene said the animal would be transported deeper into the Angeles National Forest than the bear had been taken before.
Wildlife officials tweeted that the bear will held overnight and then taken to the Los Padres National Forest in the morning.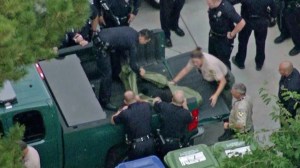 The area where the bear was found Tuesday is less than 2 miles from the foothills of the Santa Susana Mountains, which provide natural habitat for American black bears.
Bear sightings in Southern California communities near area mountains are not uncommon. Just last week, a bear ran for hours through Pasadena, even approaching the 210 Freeway, temporarily prompting authorities to stop traffic.
KTLA's John Moreno, Melissa Pamer and Carolyn Costello contributed to this report.