This is an archived article and the information in the article may be outdated. Please look at the time stamp on the story to see when it was last updated.
A mounted officer with the Los Angeles Police Department shot and killed a dog that had bitten him in Venice Beach Friday afternoon and a woman was injured in the shooting, police said.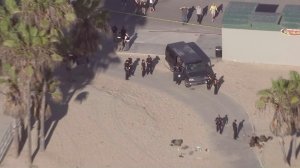 The incident was reported about 3:20 p.m. near the intersection of Rose Avenue and Ocean Front Walk, Detective Meghan Aguilar said.
Two mounted officers stopped to talk to a group of people in the area. A person in the group became agitated at some point and a "large-breed" dog also became agitated and bit one of the officers, Aguilar said.
The officer then fired his weapon once and shot the dog, the detective said. The officer was injured and treated at the scene.
The same bullet that struck the dog also hit a tourist who was in the area, Aguilar said.
The woman, who was struck in the calf, is being treated at the Ronald Reagan UCLA Medical Center and in stable condition, she added.
The officer responsible for the shooting has been assigned non-field duties as he waits for the chief to review the case next week, according to Aguilar, who said the officer "will have to be able to articulate why they used the force they did, and why they did not use other options if they were applicable at the time."
An additional two people were detained at the scene and questioned by police. One man was arrested for a warrant and one woman was arrested for resisting arrest, Aguilar said.
Police were asking the public to avoid the area during the investigation.
The shooting happened near where a beach maintenance worker's truck hit a man lying on the beach earlier Friday.
KTLA's Matt Phillips contributed to this story.