This is an archived article and the information in the article may be outdated. Please look at the time stamp on the story to see when it was last updated.
Just before a fatal plane crash near the Van Nuys Airport Tuesday afternoon, the pilot was repeatedly practicing landing, authorities said.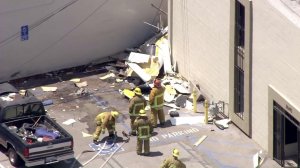 The crash was reported about 1:30 p.m. at 16145 W. Hart St., just east of the of the airport runway and the only occupant in the plane was killed, the Los Angeles Fire Department said.
Aerial video from Sky5 showed that the plane appears to have crashed into a truck and then against the corner of a building.
"The pilot had been practicing touch-and-goes at the airport prior to crashing," Ian Gregor, a spokesman for the Federal Aviation Administration, said in an email.
He added that FAA officials believe the plane is an Arion Lightning, a light-sport single-engine aircraft.
An FAA inspector was at the scene Tuesday afternoon, Gregor said.
"When the plane came down, all you heard was the car crash," said Brenda Dykstra, a witness who lives nearby told KTLA. "It didn't sound like an airplane."
The Los Angeles Police Department also responded to the crash.
There was no damage to the building and no fire was reported after the crash, but the plane was destroyed.
Wires down in the area were causing a hazard and the Fire Department asked motorists to avoid the intersection.
Update #AircraftEmergency; 1:38PM; 16145 W Hart St; #VanNuys; 1 Soul on Board (SOB) confirmed dead … https://t.co/WbxXBV3FwJ

— LAFD (@LAFD) August 2, 2016
KTLA's Jennifer Thang contributed to this story.