This is an archived article and the information in the article may be outdated. Please look at the time stamp on the story to see when it was last updated.
A 36-year-old man armed with a knife died after being shot by three police officers in the city of Bell Thursday morning, according to the Los Angeles County Sheriff's Department.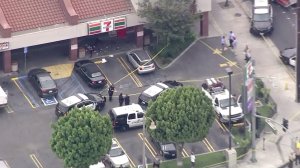 The shooting occurred in the area Florence and Atlantic avenues around 8:20 a.m., said sheriff's Deputy G. Medrano.
The incident began near the strip mall as a domestic dispute between the man and a woman who was with a child, according to Sgt. Bill Cotter of the Sheriff's Department.
The man allegedly assaulted the woman at a restaurant and then walked next door to a convenience store. The woman, who had the child with her, followed the suspect to the store and the dispute continued, officials said. Witnesses then began calling authorities.
"When the Bell officers arrived here, they encountered a man armed with a knife who was non-compliant with their orders," Cotter said at a news conference.
One father who witnessed the incident while taking his child to school told KTLA the man was "yelling" and "being belligerent."
"There was a police officer, had a man at gunpoint, giving him instructions to comply. The man was not compliant," said witness Julio Ruiz. He described the instructions as "simple police commands," including asking the man to put his hands up and drop to the ground.
"He was not interested at all," Ruiz said of the armed man.
The officer requested backup during the incident, he added.
At some point, the man "aggressed" the three officers at the scene, prompting them to open fire on him, Cotter said.
Witnesses reported hearing between five and 10 gunshots fired.
None of the officers were injured, according to a brief sheriff's news release.
"The officers are forced to make a split-second decision based on the facts that are presented to them at that time," the sergeant said.
The man was initially rushed to a local hospital after being struck by gunfire, the release stated. He was later pronounced dead.
His name was not immediately released. The relationship between the woman and the man shot by police is unknown.
Aerial video from Sky5 showed a large pool of what appeared to be blood was visible outside a 7-Eleven in a strip mall where the shooting took place.
A large presence by the Bell Police Department could be seen in front of the convenience store shortly before 9 a.m. Crime scene tape cordoned off the entrance to the parking lot.
The Sheriff's Department was assisting the Bell Police Department with the investigation.
KTLA's Feven Kiflegiorgis, Jennifer Thang and Cindy Von Quednow contributed to this story. 
https://www.instagram.com/p/BHkYC4wg9XG/