This is an archived article and the information in the article may be outdated. Please look at the time stamp on the story to see when it was last updated.
A Southern California Gas Co. worker was killed and 15 people were injured after a contractor who hadn't called to check for gas lines began digging outside a Murrieta home, rupturing a line, which led to a gas explosion that destroyed the home Monday.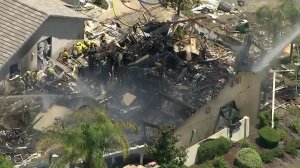 Firefighters were dispatched to a reported gas line rupture in the 23500 block of Wooden Horse Trail shortly before 11 a.m. according to Murrieta Fire and Rescue Deputy Fire Chief David Lantzer.
They discovered a gas line leak, and SoCalGas was called to the scene, Lantzer said. Crews arrived just after 11:20 a.m.
The explosion occurred about 50 minutes after they arrived, killing a technician who responded.
"We are incredibly saddened that we had a loss of one our employees today at this incident," Randon Lane, a spokesman for the utility, said at an afternoon news conference.
The employee has not yet been identified, pending notification of the victim's family.
Fifteen people, including three firefighters, were also injured and transported to local hospitals, according to Lantzer. He did not have information on their conditions.
Officials initially thought a resident was possibly missing, but by 6:30 p.m., everyone had been accounted for.
The gas line was apparently damaged by a contractor who had been performing work at the home, according to Cedric Williams, the vice president of construction for SoCalGas.
The contractor didn't call 811, as required by law, to have gas lines marked before digging on the property, Williams said, citing information from the preliminary investigation.
"No matter what you're doing, if you're digging, please call 811. Even if the work doesn't require natural gas or natural gas appliances, as was apparently the case here," he said, later adding, "Not calling 811 makes it dangerous for everyone."
The house where the explosion happened had just been sold, and the new residents had just moved in a week or two ago, according to neighbor Rebecca Byrd.
"It's heartbreaking," she told KTLA. "For this to happen, it's atrocious."
The home, located at the corner of Wooden Horse Trail and Spinning Wheel Drive, was leveled in the blast, reduced to piles of charred rubble. The roof was destroyed, as were nearly all of the walls, Sky5 video over the scene showed. Debris littered the front yard and the street, and some nearby homes also appeared to have been damaged.
Firefighters doused water over the charred wreckage for at least two hours before the flames were fully extinguished.
Resident Jodie Rounds told KTLA the explosion caused shaking in the neighborhood that she initially mistook as an earthquake.
"It was like a really big jolt, and I thought it was an earthquake because of all the earthquakes we've been having," she said, alluding to the recent two large temblors and thousands of aftershocks centered near Ridgecrest that were widely felt around the Southland.
Clinton Keith Road has been shut down between Smith Ranch Road and Nutmeg Street indefinitely due to "public safety," according to the Murrieta Police Department. Residents will not be allowed into the area during the closure.
A number of residents — officials did not specify how many — were evacuated and displaced from their homes as a result of the incident.
Officials are working on a repopulation plan, but those who can't return to their homes yet are urged to go to the reception center set up at Vista Murrieta High School, located at 28251 Clinton Keith Road.
The incident is under investigation, and no additional information has been released.
My neighbor's home exploded just 30 mins ago due to a gas leak… officials haven't reported any fatalities yet. Roads are blocked from Clinton Keith to Smith Ranch all the way down to Nutmeg. @ABC @CityOfMurrieta #murrieta #explosion #gasleak #BREAKING pic.twitter.com/GcTFPugqEW

— JoannaRose 🥀 (@JoannaRoseMusic) July 15, 2019
Count your blessing guys things can change in a moment, Murrieta fire/explosion. Be safe!! pic.twitter.com/K9sohQMPEi

— Caden King (@CadenMKing) July 15, 2019