This is an archived article and the information in the article may be outdated. Please look at the time stamp on the story to see when it was last updated.
A 14-year-old former student is in custody after allegedly shooting a current student in the arm with a rifle at Highland High School in Palmdale Friday morning, and the suspect's parents helped find him, authorities said.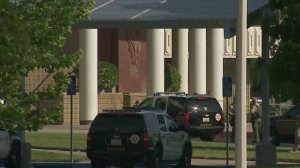 Deputies responded to the school, located in the 39000 block of West 25th Street, after receiving reports of an shooter on campus about 7 a.m., Los Angeles County Sheriff's Capt. Darren Harris said.
Both father and mother of the alleged shooter separately called an off-duty Los Angeles police officer they know shortly after the crime to express concern, L.A. County Sheriff Jim McDonnell said in an afternoon news conference.
The officer helped capture the suspect after the father told him he had received a call from his son who indicated he had "shot his gun in the air and headed toward Vons," McDonnell said.
The officer detained the teen who was without a weapon near the grocery store soon after, McDonnell said.
The shooting sparked a major response from deputies, who said they received almost 100 911 calls, and a frenzy on social media.
Authorities responded within five minutes, soon learning that a 14-year-old armed with a rifle had fired and struck another student in the arm, Harris said.
The wounded teen was taken to a nearby hospital by a bystander and was expected to make a full recovery, McDonnell said. Authorities initially said the victim was also 14, but later stated he was 15 years old.
Freshman Alexis Piercy said she could hear several shots ring out as she ran for cover.
"I heard the first loud bang and I just thought it was maintenance, because yesterday they were working on the roof, and then it just continued to ring out," she said. "After I started running, there was about four more."
The shooter fled the campus with the gun, the captain said.
After the incident, the suspect called his father to tell him he had shot his gun in the air and was making his way toward a shopping center near the school, according to a sheriff's news release. His father relayed the information the off-duty LAPD officer, who located the suspect and alerted the Sheriff's Department.
He was taken into custody on suspicion of attempted murder, and an SKS rifle was recovered from a field about half a mile from the school, officials said. The Bureau of Alcohol, Tobacco, Firearms and Explosives, which also responded to the incident, was working to track down where the gun came from.
McDonnell said investigators haven't determined a motive for the crime and were still waiting to interview the suspect.
"They're still processing the scene out there," he said. "There was a number of shots fired … The potential was for anyone to take a stray round there.  As far as trying to estimate what he was aiming for it's too early to go into that. He fired rounds and deliberately left the campus into the adjoining neighborhood."
Update Regarding Highland High School in Palmdale:
So far, no other threats ID'd.
Appears to be isolated shooting.
Victim is 14 y/o male & student of Highland High School.
Subject is 14 y/o male & student of Highland High School, detained off campus.
Rifle recovered off campus

— LA County Sheriffs (@LASDHQ) May 11, 2018
Neither the victim nor suspect was being identified due to their age, but authorities said the suspected shooter had previously been voluntarily taken out of the school by his parents. The suspect's mother said he ran away from home Friday morning, according to sheriff's officials.
The school was "cleared by deputies" following the shooting, the Sheriff's Department said about 9 a.m. A lockdown that had students sheltering in place was lifted by 10:30 a.m., and students were being released to parents, the school's principal said on Twitter.
"Parents can rest assured there is no threat to any campus here in the Antelope Valley," Harris said. "We have a heavy presence here, and we have a suspect in custody. We feel very confident that our schools are safe."
A concerned parent waiting for her son near Highland High said she got a text from him saying he heard a gunshot and that he had locked himself in a classroom. She was waiting to learn when her son would be released.
"It's scary, I don't know what to feel," Ana Salazar told KTLA. "It's something I never expected to happen."
Amid a climate of heightened scrutiny for gun violence and school safety in the wake of the Feb. 14 massacre at Stoneman Douglas High School in Parkland, Florida, the Palmdale shooting immediately sparked a frenzy on social media and in the national news media. The term "active shooter" was a focus in much of the reaction, though authorities initially told KTLA they were not describing the situation that way.
Superintendent Raul Maldonado wrote in an alert on the website for Palmdale School District that there was a "confirmed … active shooter" at Highland High. Palmdale School District runs elementary and middle schools in Palmdale, though Highland High School is part of the Antelope Valley Union High School District, which operates several high schools in the broader area.
All of Palmdale School District's campuses were placed on lockdown. The campuses were searched and no incidents of concern were reported, the superintendent later said.
Meanwhile, the Sheriff's Department searched the campus of Manzanita Elementary School in Palmdale, about 6 miles east of Highland High, after a report of "shots heard." Authorities said no evidence of a crime was found and the report was not linked to the Highland High shooting.
Authorities are continuing to investigate the Manzanita incident to determine if it was "potentially a distraction or a coincidence," McDonnell said.
The Highland High School campus was cleared at 10 a.m., McDonnell said.
"We are incredibly grateful for the actions of Highland High School teachers and staff and our first responders who courageously protected the lives of our students today," said Betsy Sanchez, director of communications for the Antelope Valley Union High School District in a statement.
KTLA's Wes Woods II, Jennifer Thang, Irving Last, Melissa Pamer and Cindy Von Quednow contributed to this report.