This is an archived article and the information in the article may be outdated. Please look at the time stamp on the story to see when it was last updated.
Authorities from several agencies Wednesday night were searching for a helicopter after reports of a downed aircraft near San Pedro, but no debris or victims have been found, officials said.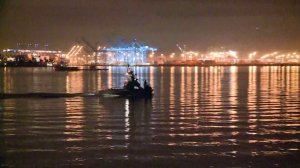 The search began about 5:40 p.m. after people on board a Princess Cruise ship reported seeing a helicopter go down near the break water, said Los Angeles Police Officer Tony Im.
Several other people called 911 about the helicopter, believed to have crashed near the Angels Gate lighthouse at the end of the breakwater, the Los Angeles Times reported.
A small black Robinson R-22 with a tail number of N702JJ, was reported missing after taking off from Torrance Wednesday, Petty Officer Andrea Anderson of the U.S. Coast Guard, Anderson told KTLA. Two people were reported on board.
No contact has been made with the missing aircraft and no distress calls were made, officials said.
The helicopter was registered to JJ Helicopters Inc. and apparently took off from Zamperini Field in Torrance. The company provides tours and the flight was for an aerial photo shoot, the Times reported.
Los Angeles city and fire department officials lifeguards and the Coast Guard were searching the area, but haven't found anything, officials said.
Marvin Sare told KTLA he was fishing with a friend at Cabrillo Beach when he heard a noise that sounded like engine problems.
"That's what caught our attention," Sare said.
"It just dropped like a brick, straight down," Sare's friend, Rick Salinas said.
By 7:30 p.m. rescue boats were being released from the area, but LAFD boats remained on standby as Los Angeles Port Police officials established a search perimeter, according to the fire department.
The investigation was eventually turned over to law enforcement agencies, though two fire department boats were expected to remain at the scene. Los Angeles and Long Beach police officials, along with the Los Angeles County Sheriff's Department were expected to search through the night, looking for oil, debris or belongings in the water.
Tom Gazsi, chief of port police, said authorities were searching a 3 to 5 nautical miles. He called the search a "recovery operation."
KTLA's Nidia Becerra and Matt Phillips contributed to this story.