This is an archived article and the information in the article may be outdated. Please look at the time stamp on the story to see when it was last updated.
Wild pigs that have damaged landscaping at Fairmount Park and other Riverside County areas have caused millions of dollars worth of damage, and officials are warning residents to be careful around the animals.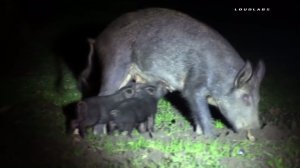 Officials estimate there are thousands of wild pigs residing in river bottoms in western Riverside, Jurupa Valley and Eastvale. Large packs of boars emerge late at night, knowing they are less likely to be hunted, and forage for anything edible, ripping up large swaths of land in the process, according to John Welsh,  a spokesman for the Riverside County Department of Animal Services.
Experts say wild pigs will usually try to avoid humans, but they can be aggressive and unsafe if cornered, or if their piglets are approached. But the feral pigs do have an appetite for destruction and have caused millions of dollars in damage to area property and crops, and they may carry diseases, Welsh said.
"They can get quite large and you can't really contain them too much, so if you have a weak fence they'll just knock it down or barge on through," Welsh said.
"They travel in big packs," he said. "That's the fascinating thing about the pigs; it's not like you'll see one roaming by itself."
Area resident Romey Rodriguez told KTLA she saw a pack of around 15 that ran the gamut from piglets to older animals.
The pigs can be legally hunted if requisite permits from Fish and Wildlife are obtained, Welsh said.
Eastvale City Manager Michele Niseen said she is not aware of any permits that have been issued by Fish and Wildlife in the town, and in a tweet posted Monday, Fish and Wildlife said there has been no special call to action: "Pig hunting is legal with a license and tag, but there's been no special call to action in the City of Riverside. Wrong info reported."
Fish and Wildlife spokesman Andrew Hughan stressed that residents should be careful around the animals.
"They're big. They're smart. They're dangerous," Hughan said.
Locals believe this pack of pigs may be the offspring of pigs that escaped from farms during floods the 1930s.
Wild boars were originally introduced in California by Spanish and Russian settlers in the early 1700s as their domestic livestock became feral, according to the state's Department of Fish and Wildlife. This was exacerbated in the 1920s when a Monterey County landowner introduced the European wild boar, which bred with the domestic pigs, creating a wild boar and feral domestic pig hybrid.
Correction: An earlier version of this story included incorrect hunting information. It has been updated.