This is an archived article and the information in the article may be outdated. Please look at the time stamp on the story to see when it was last updated.
Dozens of deputies, search and rescue teams and other authorities meticulously searched Malibu Creek State Park Wednesday in hopes of turning up evidence as they investigate an area burglary series that spans the last two years.
The massive operation comes a week after the arrest of 42-year-old Anthony Rauda, who L.A. County sheriff's officials believe could be tied to as many as eight burglaries in which only food was stolen.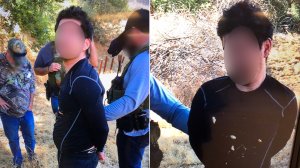 The incidents all took place in the early morning hours before dawn, beginning in October 2016 with most recent occurring just last week on Oct. 9, the day before Rauda's arrest.
There's also been speculation Rauda could be linked to just as many unsolved shootings in the area, including the killing of a Tristan Beaudette, a father who was shot dead while camping with his daughters at the State Park on June 22. But sheriff's officials said it's too early to tell if he could be tied to those crimes, and the homicide investigation remains separate from the burglary probe.
Still, authorities plan to run ballistics tests on the rifle seized from Rauda during his arrest last week to determine whether it matches evidence from the killing of Beaudette and other shootings.
The park has remained closed to visitors since Beaudette's death as the Sheriff's Department continues to investigate.
About 40 to 50 personnel scoured the area on Wednesday, with Sky5 footage of the scene showing officials wearing backpacks and walking along the many narrow, winding dirt trails through the shrubbery of the Santa Monica Mountains.
"There's areas that have high brush, and sometimes stuff is not seen to the naked eye, so we want to make sure that we are utilizing every resource possible to locate anything that could be connected to the burglaries," Sheriff's Lt. Charles Coronado said.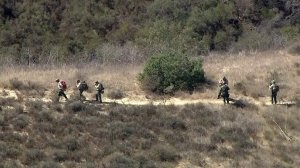 Coronado also said officials were looking at areas where Rauda "may have been staying."
"We're trying to learn as much about this individual as possible," he said, noting authorities were also looking for any possible weapons and were following up on leads from the general public.
Since food was stolen in the eight burglaries, some area residents suspect Rauda could have been surviving and living in the wilderness area. When he was initially arrested last week, McDonnell had said it was still too early to tell.
The region has "been on pins and needles" in light of the unsolved crimes, State Sen. Henry Stern said during a news conference after Rauda's arrest last week.
Rauda was taken into custody after detectives had spent more than five hours searching through rugged terrain near the Agoura Hills/Calabasas Community Center, where the most recent break-in in the burglary series occurred.
Authorities said they tracked him down by following boot prints in the area. He was being held on suspicion of a no-bail warrant for a parole violation as authorities do not yet have enough evidence to implicate him in the eight burglaries.
His face has been blurred in images released by sheriff's officials because they anticipate presenting him in a lineup to potential witnesses.
Prior to Rauda's arrest, the Sheriff's Department had been searching the area extensively on multiple occasions.