This is an archived article and the information in the article may be outdated. Please look at the time stamp on the story to see when it was last updated.
Officials are searching for suspects and a small pet dog that was stolen or went missing following a home burglary in Long Beach, police said Monday.
Archie, a French Bulldog, disappeared after the residents spotted an intruder in their house on the 2500 block of Quincy Avenue around 10:45 a.m. Sunday, the Long Beach Police Department said in a news release.
The residents were at home when they heard a rustling in another room and soon discovered a strange man standing in their living room, officers said.
The encounter apparently frightened both parties, and the resident and intruder ran off in opposite directions. The burglar, who had come in through an open door, fled the scene in a dark-gray Nissan Versa, according to police.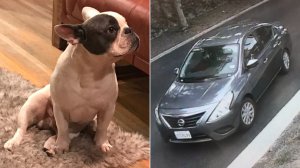 After the man was gone, the residents noticed Archie was nowhere to be found. Some tools were also missing, officials said.
Investigators uncovered surveillance video showing three men inside the Nissan as it rolled up to the home. The man who went inside the house was sitting in the front passenger seat, while a second suspect was driving and a third sat in the back seat.
Police described the suspect seen in the residence as a Latino man with a shaved head and facial hair. He measured about 5 feet 8 inches to 5 feet 11 inches tall, weighed around 175 pounds and, at the time of the crime, was wearing black sunglasses, a black long-sleeved hoodie and dark jeans with grey tennis shoes.
Anyone with information about the suspects' or Archie's whereabouts can contact Detective Daniel Martinez at 562-570-7392. Anonymous tips may be submitted via 800-222-8477 or LACrimeStoppers.org.