This is an archived article and the information in the article may be outdated. Please look at the time stamp on the story to see when it was last updated.
Authorities were seeking the public's help Friday in finding a man they said was involved in a fatal gang-related shooting in a Monrovia bar, as well as two other men accused of helping him flee.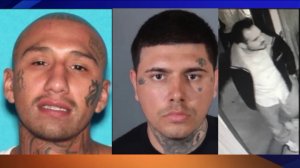 The incident that occurred just after midnight on Dec. 2 at the Gem City Grill left a bystander dead and two people injured, according to the Los Angeles County Sheriff's Department.
Jeremiah LaCroix, 31, described by authorities as a known gang member from Baldwin Park, began shooting inside the crowded bar after he and William LaCroix, Jr. engaged in a verbal confrontation with members of a rival gang, the Sheriff's Department said in a statement.
Michael Lowe, 43, was struck and killed while two members of the rival gang were injured, the news release said. One of the surviving victims was also struck and remained in critical condition Friday. The other victim sustained none life-threatening injuries.
Two other suspects, William LaCroix, Jr. and Erika Torres, were both arrested for murder and attempted murder with gang allegations.
The gunman, who the Sheriff's Department identified as Jeremiah LaCroix, fled the scene in a white, four-door sedan with an unidentified man, officials said. Investigators believe another gang member, Jacob Webb, helped LaCroix escape authorities the night of the shooting.
On Dec. 19, Monrovia police arrested LaCroix's parents, Anna Guerrero and William LaCroix, for harboring and assisting their son.
Authorities describe LaCroix as as a 6-foot-tall Hispanic man weighing about 180 pounds. He has brown eyes with multiple tattoos on his face, head and body. Authorities said he goes by the moniker "Ciego" and that he frequents the Monrovia, West Covina and Baldwin Park areas.
The unidentified suspect was described as a Hispanic man who goes by the name "Alfonso." He may be driving a white Toyota Camry, officials said.
Webb was described  as a 29-year-old Hispanic gang member known to frequent in the West Covina and Baldwin Park areas. He stands 6-foot-4 tall and weighs about 220 pounds, authorities said. He has several tattoos on his face, head, body and goes by the nickname "King Kash."
Anyone with information about the incident can call the Los Angeles County Sheriff's homicide bureau at 323-890-5500. Those who want to provide information anonymously can call 800-222-TIPS.