This is an archived article and the information in the article may be outdated. Please look at the time stamp on the story to see when it was last updated.
Authorities are searching for a person who shot at a Los Angeles Police Department vehicle in Eagle Rock early Sunday.
The incident prompted an hours-long closure of the 134 Freeway in the area.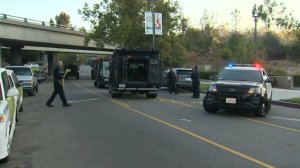 The incident was reported about 4:15 a.m. near the intersection of Eagle Vista Drive and Figueroa Street. Several residents in the area called police to report hearing gunfire.
Patrol officers were heading on Eagle Vista when their vehicle was struck by gunfire. The officers were not injured during the shooting, but a bullet hole was on the back driver's side door of the SUV, police said.
The officers heard three shots, but only saw one bullet hole.
"This is an attempted murder of a police officer," said LAPD Capt. Phil Smith. "This is a very significant event."
The motive behind the incident remains unknown.
Police believe the shots might have been fired from the 134 Freeway. A portion of the highway was closed during the investigation and search, but was reopened by 11 a.m.
Police did not have a description of the vehicle or the possible shooter, but set up a perimeter in the area. It is also unclear if the shooter fired from a vehicle or while on foot, police said.
Authorities searched the area with a helicopter and tactical teams and police dogs arrived at the scene about 7 a.m. Officials believe the shooter might still be in the area because neighbors did not hear any vehicles speeding away after the incident.
A transient in the area was questioned as a potential witness, but no suspects are in custody, according to the LAPD.
The incident occurred next to the Eagle Rock Recreation Center.
"If people are willing to shoot at police, they are willing to shoot at anybody, that's why we're taking this quite seriously," Smith said.
KTLA's Geoff Peters contributed to this story.