This is an archived article and the information in the article may be outdated. Please look at the time stamp on the story to see when it was last updated.
Update: The missing girls were found safe, L.A. County sheriff's officials said Thursday, and their father, Deshaun Carter, was arrested on suspicion of child concealment. 
Authorities are seeking the public's help in finding two young sisters reported missing in Lancaster.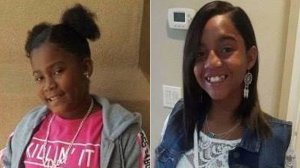 Relinne, 11, and Derinne Harris, 12, left their Lancaster residence together early Monday evening after an argument with their mother, said Los Angeles County Sheriff's Lt. Dan Nagelmann.
They were last seen at the home, located in the 4700 block of West Avenue J7, between 5 and 5:30 p.m. Monday.
The girls don't have cellphones and didn't show up for school Tuesday. Detectives checked in with their friends, who said they didn't know where the sisters were.
Read the full story on LATimes.com.