This is an archived article and the information in the article may be outdated. Please look at the time stamp on the story to see when it was last updated.
An armed man and a woman suspected in a mass shooting that killed 14 people were dead after a shootout in San Bernardino that also left a police officer wounded Wednesday, authorities said.
Investigators saw what they thought was the suspects' vehicle leaving a home in Redlands that was being looked into in connection with the deadly shooting the Inland Regional Center, San Bernardino Police Department Chief Jarrod Burguan. Officers saw a vehicle leave the area and followed it.
A pursuit led them back to San Bernardino, where the vehicle stopped on East San Bernardino Avenue near Mountain View Avenue.
Police fired on the vehicle, leaving the two people inside dead, Burguan said.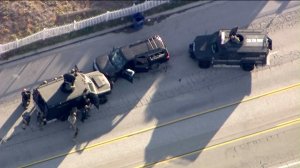 Aerial video from Sky5 showed the damaged SUV stopped with several of its windows shot out and the doors open. One person was down in the street — in a pool of blood — near the vehicle. Authorities used a pole to pull what appeared to be second person from the SUV.
Burguan later said the pair were armed with assault rifles and handguns, and were wearing "assault-style clothing." The relationship between the two was not know, authorities said.
The injured officer, believed to be a San Bernardino city police officer, was transported to a hospital with injuries that were not thought to be life threatening.
Officers also could be seen surrounding multiple homes in the area, including on Gould Street, near Richardson Street, a few blocks away.
A resident who lives in the area — on Gould Street — told KTLA his family members were locked in their home, hearing ongoing gunfire.
Redlands police helped San Bernardino officers with a search warrant being served in connection with the case at North Center Street and Pine Avenue in Redlands, a spokesman for the police department in that city confirmed. The agent in charge of the FBI Los Angeles Field Office said federal investigators planned to continuing working at the home.
Burguan had said earlier that the shooters in the Inland Regional Center incident may have fled in a dark-colored SUV. Fourteen people were killed and 17 others injured in the shooting.
The regional center is located about 2 miles from where the shootout with the SUV took place.
This slideshow requires JavaScript.