This is an archived article and the information in the article may be outdated. Please look at the time stamp on the story to see when it was last updated.
A man has been charged with shooting four 15-year-old boys, two of them fatally, in an unprovoked attack last month in South Los Angeles, police announced Friday.
Cristian Ivan Macias, 19, is accused of opening fire on the teens in the area of Manchester and Grand avenues, on the southwest edge of the Florence neighborhood, around 1:25 a.m. on May 13, which was Mother's Day.
La'marrion Upchurch and Monyae Jackson were walking with two other friends when they were gunned down "senselessly, for no reason that we can determine at this point in our investigation," said Los Angeles Police Capt. Peter Whittingham at a news conference held Friday to announce the charges.
"I cannot tell you how saddened I was, not just as a police officer but as a parent, getting a call on Mother's Day: Four 15-year-olds, walking down the street, shot," Whittingham said.
Jackson's mother, Bridget Green, previously told KTLA the boys had driven up from Long Beach to attend a party. Just after they left the gathering, they were approached by two men who asked them where they were from then opened fire, she said.
Upchurch was pronounced dead at the scene, while Jackson died two days later at the hospital. The other two were hospitalized but later released, police said.
Jackson and Upchurch were lifelong friends.
Prosecutors allege that Macias is a gang member and, along with two counts each of murder and attempted murder, he faces a sentencing enhancement for allegedly committing the act on behalf of the gang.
There is no evidence the victims were in any way affiliated with gang activity, Whittingham said.
Surrounded by other family members at Friday's press conference, Jackson's brother Kevonte Watkins described the 15-year-old as exceptionally intelligent and bright, someone who drew others in with his outlook.
"He was not an ordinary 15-year-old," Watkins said. "I felt like he was above what a young 15-year-old should have been. I taught him a lot, but also learned a lot from him. I was his positive role model, but also the courage he gave me, the inspiration to be that positive role model in his life."
Watkins also said his brother "wasn't a bad kid at all," but he feels he was treated that way when LAPD responded to the scene that Sunday morning and "profiled him as being something that he isn't."
"I felt like my little brother was victimized not once but twice — not just by the killers, but also by the arriving officers as well," Watkins said, adding that the teen was handled as an "aggressor" more than as a victim.
Officers responding to the scene had described the victims as men in their 20s, not high school students.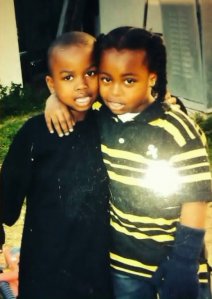 Watkins said he heard his brother was handcuffed and put into the back of a police car, and after reviewing police documents on the officers' response he believes "there could have been a different outcome" if first responders had focused on life-saving measures.
Whittingham said the handcuffing claim has "been looked into" and that procedures are being addressed. He also defended his officers' conduct at a scene with multiple victims and unknown suspects.
"Don't confuse some procedural matter with an issue here where we have four 15-year-olds who were shot," the captain said. "The issue at hand is that we have young black men being killed on the streets of Los Angeles. That has to stop."
Watkins also said he heard there were additional suspects involved in the shooting who remain at large.
"Standing here is not a good feeling because I know that they're still out there," he said. "Hopefully this message resonates to whoever did this and whoever can come forward and give information."
Police are continuing to pursue any kind of verifiable leads in the case, according to Whittingham.
Macias, meanwhile, was being held without bail at the North County Correctional Facility following his June 14 arrest, inmate records show.
Police had previously said he was arrested June 15, but that was the day he was booked. The L.A. County District Attorney's Office then filed charges three days later, on June 18.
According to Whittingham, the charges were not announced until Friday because "we wanted to make sure, after consultation with the district attorney's office and their procedures."
Macias is scheduled to appear in court in July 25.