This is an archived article and the information in the article may be outdated. Please look at the time stamp on the story to see when it was last updated.
Authorities on Tuesday were expected to investigate claims by witnesses that street racing led to a fiery crash the day before in South Los Angeles that involved at least two cars and a Metro bus.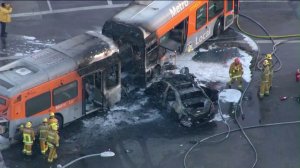 "Officer, I need to talk to you. These guys were racing. They almost crashed into me way back there," one witness could be heard saying in a cellphone video immediately following the crash on Martin Luther King Jr. Boulevard and Western Avenue in the Vermont Square neighborhood.
A black Mercedes-Benz was racing a white Dodge Challenger before both ran into a Metropolitan Transit Authority bus, witnesses told authorities.
The bus was unoccupied, except for the driver, at the time of the crash, according to Erik Scott, a spokesman with the Los Angeles Fire Department.
Video from the scene showed the fiery crash as officers and a good Samaritan tried to help people trapped in the wreckage.
"I was like, Lord Jesus get them out … As soon as they got the guy out, it blew up," witness Penny Daniels said.
Six of the seven people injured in the crash were hospitalized, including two who were in critical condition.
A witness claimed a third vehicle was also racing prior to the crash, but officials could not confirm a third vehicle was involved or if any of the cars were racing, said Sgt. James Kelly with the Los Angeles Police Department.
If investigators determine street racing was involved, the drivers could be facing reckless driving charges, Kelly said.
Authorities were expected to return to the crash scene Tuesday to continue the investigation and look for surveillance video.