This is an archived article and the information in the article may be outdated. Please look at the time stamp on the story to see when it was last updated.
A search continued Friday for a man who authorities said attacked two women in separate incidents that occurred hours apart in Victorville earlier this week.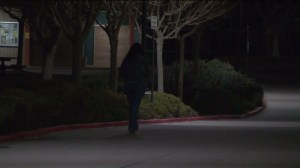 The first victim, an 18-year-old woman, was approached by the man in a parking lot at Victor Valley College, near the Student Activities Center, about 5 p.m. Tuesday, according to a news release from the San Bernardino County Sheriff's Department.
The man asked the victim about a classroom, and when she tried to walk away he grabbed the front of her jacket, reached inside her pants and tore her underwear, the release said. She escaped and called police.
The second reported incident happened about 1 a.m. Wednesday in front of an Ashley Furniture store at 12704 Amargosa Road (map).
A 22-year-old woman was walking in front of the business when the man approached her from behind and asked to use her phone, the Sheriff's Department said. When she told him she did not have one and began to walk away, the assailant shoved her to the ground, grabbed her by the leg and began dragging her across the sidewalk, according to the release.
The man released the victim after she turned and kicked him, authorities said. She told investigators she believed an older white vehicle that was parked in front of the store may belong to the attacker.
The man is described as about 30 to 40 years old, 5 feet 6 inches to 5 feet 11 inches tall, 170 to 180 pounds, with a full mustache and short-to-medium-length beard and short brown hair. He was wearing a jacket, T-shirt, jeans and sweatpants, all of which were black, had a "strong, raspy voice," and "smelled of cigarettes and wet dog," the Sheriff's Department said. He may have been driving an older, white four-door vehicle, possibly a small Volkswagen.
Anyone with information is asked to call sheriff's Detective Gardner at 760-241-2911.