This is an archived article and the information in the article may be outdated. Please look at the time stamp on the story to see when it was last updated.
The Los Angeles County coroner's office took a step Friday toward unraveling the mystery surrounding a dead girl when it completed an autopsy of the child, whose bent body was stuffed into a duffel bag and dumped on an equestrian trail.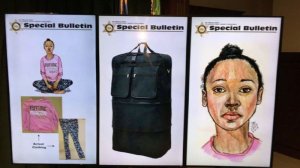 Los Angeles County Sheriff's Capt. Kent Wegener, who oversees the homicide bureau, said his investigators are searching for the girl's identity, and more detectives are being assigned to assist in the investigation given the volume of information related to the child's body, which was found on a Hacienda Heights trail Tuesday morning.
"We have had thousands of tips come in from across the country," Wegener said.
Detectives at this stage aren't making public how the girl died and they expect to get more information from the autopsy and tests on the child's body in the next couple of days, he said.
Read the full story on LATimes.com.