This is an archived article and the information in the article may be outdated. Please look at the time stamp on the story to see when it was last updated.
Eight people were partially caught in an avalanche that forced the closure of Mammoth Mountain Sunday, with some of them suffering minor injuries as a result, officials said.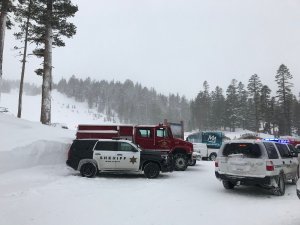 Crews were performing hazard mitigation when the avalanche came down from the upper part of the mountain toward the High Five Express area at around 10:15 a.m. Saturday, according to Mammoth Mountain's Facebook page.
The location where staffers were working was closed to skiers at the time, the statement posted to Facebook said, but debris reached an area open to the public.
Eight people — including two guests at the ski resort and six employees — were partially buried in the avalanche but were able to free themselves, resort officials said.
The guests got partially caught in the avalanche after it spread about 100 meters into an area open to the public, officials said. The employees were caught while they were working at the bottom of a closed lift, and while they were able to free themselves, they suffered some minor injuries, according to the resort.
Chairlifts came to a stop at around 11 a.m. as sirens from rescue units blared, the Los Angeles Times reported.
"Shortly before the slide, [the Comeback Trail] area was very crowded," L.A. resident Barbara Maynard told the paper. "Essentially, the top of the mountain came loose in a major avalanche."
No injuries or missing people were reported as the resort worked with local authorities on search and rescue efforts that were completed by 4:30 p.m.
"Ski Patrol led a 6-hour search, which included the use of transceivers, RECCO, avalanche rescue dogs, and a manual probe search," the resort said in a Facebook post.
"We expect to return to normal operation tomorrow," another Mammoth Mountain Facebook post said.
Those who want to report any missing individuals can call 760-934-0611.
Here are some shots from Chair 2 lot at @MammothMountain two hours after avalanche on upper mountain. pic.twitter.com/1hcAip1jSu

— Melissa Pamer (@mpamer) March 3, 2018