This is an archived article and the information in the article may be outdated. Please look at the time stamp on the story to see when it was last updated.
One person was found dead during the lockdown in an Azusa residential area on Sunday, Los Angeles Fire Department Supervisor Pitman said.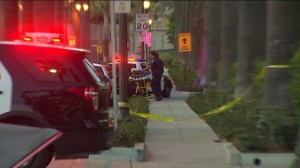 The incident began when officers went to arrest a person for two no bail warrants and they fled into a residence, the Azusa Police Department said.
The incident took place in the area of the area of the 800 block of Pepper Tree Drive (map), according to a tweet by the police department at 3:33 p.m. Details were not provided.
Residents in the Sierra Palms Condo complex were requested to stay inside their residence while police searched the area for an unidentified person, a tweet stated.
Anyone living on the south side of E. Silver Maple Drive (map) were also told they were not allowed to return home, a tweet stated.
Residents living on E. Silver Maple Drive were allowed to return around 8:30 p.m., but those living on Pepper Tree were not, according to a tweet.
Another post stated: "Please remain inside and lock your doors and windows."
The incident was transferred to the Los Angeles Sheriff's Department's Homicide Bureau, according to a tweet around 8 p.m.
Check back for more information on this developing story. 
Please continue to stay inside your residences as we handle this situation. Don't create a problem during a problem! #azpdpepper

— Azusa Police (@AzusaPD) March 31, 2014