This is an archived article and the information in the article may be outdated. Please look at the time stamp on the story to see when it was last updated.
A Southern California baby entered the world in an unlikely place – on the side of the 405 Freeway.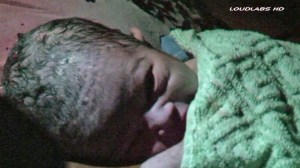 The impatient little girl made her very public debut Saturday at 1 a.m. on the southbound side of the freeway at Santa Monica Boulevard in West Los Angeles, according to the Los Angeles Fire Department.
The infant's mother was being driven to the hospital by the baby's father, but they didn't quite make it in time.
So, dad rolled up his sleeves and delivered the baby girl on the shoulder of the freeway.
He got a little help from the newborn's grandparents, who were in the car.
A short time later, Los Angeles city firefighters arrived on the scene to help.
The family's identity is not yet known, but firefighters report mother and baby were doing just fine.