This is an archived article and the information in the article may be outdated. Please look at the time stamp on the story to see when it was last updated.
A 2-year-old boy was hospitalized falling from a third-floor apartment window in Orange on Tuesday, according to police.
The city's Fire Department responded to the 2000 block of North Park Lane in the 1 p.m. hour after being called for a report that a baby fell from the second story of an apartment, a dispatcher said.
Police on scene said the boy fell from the third story onto a first-floor roof below, meaning the child fell two stories. The boy's father and multiple siblings were home at the time, and it's not clear how the toddler was able to get out the window.
Investigators were interviewing family members, and taking photographs and measurements, Orange Police Department Sgt. Phil McMullin said.
"At this point, it's looking like an unfortunate accident," McMullin said.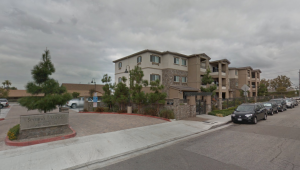 The child was transported to a hospital in stable condition with traumatic but non-life threatening injuries, a news release from the Orange Fire Department stated.
The dispatcher initially describing the child as an infant, but police later said he was 2.
The incident occurred at the 63-unit Serrano Woods apartment complex.
KTLA's Steve Bien contributed to this article.