This is an archived article and the information in the article may be outdated. Please look at the time stamp on the story to see when it was last updated.
A 1-year-old child was found safe inside a Chrysler PT Cruiser that had been reported stolen Wednesday in San Bernardino, police said.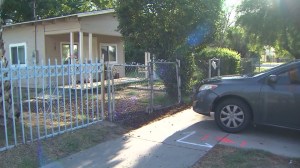 Authorities found the child still strapped into a car seat inside the vehicle at 9th Street and Ramona Avenue, San Bernardino police Lt. Rich Lawhead said.
The child, he said, was "fine" and uninjured. The suspected car thief, however, got away, Lawhead said.
The child's mother was inside a home in the 1500 block of 7th Street at about 11:30 a.m. when the car was stolen, Lawhead said.
Click here to read the full story on LATimes.com.