This is an archived article and the information in the article may be outdated. Please look at the time stamp on the story to see when it was last updated.
A small, baby gray whale swam into Dana Point Harbor on Tuesday afternoon, according to the Orange County Sheriff's Department.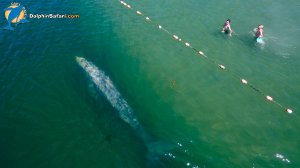 The whale, nicknamed "Carly", swam into the harbor around 8:30 a.m.
Authorities did not initially attempt a rescue due to whales commonly swimming into the area and finding their way out, according to Lt. Steve Gil with the Department.
The baby whale soon became distressed and officials helped lead the animal out of the harbor by 1 p.m., Lt. Lane Lagaret said.
Dave Anderson, owner of Captain Dave's Dolphin & Whale Safari, was operating a whale watching trip when he saw the animal in the harbor, according to a press release. 
"The whale overall looks fairly healthy, but skinny, and appears to be underweight," said Anderson. "It looks to be about 15 to 18 feet in length and heading up the coast. The gray whale seems to be foraging for food in the harbor. Some gray whales, during their migration route, end up stopping along the way and some find enough food to survive."
Swimmers, paddle-boarders and whale watchers in the area are shown on camera admiring the whale.