This is an archived article and the information in the article may be outdated. Please look at the time stamp on the story to see when it was last updated.
A 5-month-old boy was safely recovered after police pursued his father in a vehicle from Long Beach to San Pedro early Saturday morning, twice exchanging gunfire with the man, the Long Beach Police Department said.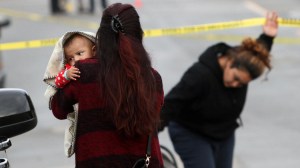 Officers responded to reports of a domestic dispute and shooting at a home in the 6500 block of East Rosebay Street in Long Beach (map) shortly before 2 a.m., according to a news release.
During the investigation, a man allegedly involved in the dispute called the home about 2:50 a.m. and said he was on his way back with his infant son, and threatened family members and officers, according to the police statement.
"He specifically stated he would harm the baby and use him as a shield against police," the release said.
The suspect, later identified as 22-year-old parolee Joseph Gonzalez, returned to the location in a dark-colored SUV, got out of the vehicle and confronted officers, authorities said.
An exchange of gunfire occurred, after which the man reentered his vehicle and a pursuit ensued, according to police, who said it was unknown at the time if the child was in the SUV.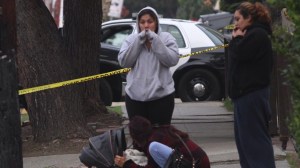 The suspect stopped near the intersection of West Oliver Street and North Bandini Street in San Pedro (map) and shot officers, who returned fire, the news release said.
Gonzalez then "drove off, stopped again shortly thereafter and surrendered," the Police Department said, adding that he was unhurt.
The uninjured infant was recovered from the man's vehicle and was transported to a hospital as a precaution. The boy was later turned over to  relatives in San Pedro, authorities said.
One officer was injured by flying glass when a window in his patrol vehicle was hit by gunfire during one of the shootouts, according to the news release. The officer was treated at a hospital and released.
It was unclear if Gonzalez had been attempting to kidnap the child, Los Angeles Police Department Sgt. Muirhead said.
The suspect was booked on a slew of charges, including: attempted murder, evading police, child cruelty that could result in possible injury or death, assault with a firearm on a police officer, felon in possession of a firearm and parole violation, authorities said. He was being held without bail at the Long Beach city jail.
An investigation was ongoing. Anyone with information was asked to call Long Beach police homicide detectives at 562-570-7244. Anonymous tips may be submitted by calling 1-800-222-TIPS (8477), texting TIPLA plus the tip to CRIMES (274637), or visiting lacrimestoppers.org.