This is an archived article and the information in the article may be outdated. Please look at the time stamp on the story to see when it was last updated.
The body of a newborn girl was found Thursday on a conveyor belt at a Victorville recycling plant, according to the San Bernardino County Sheriff's Department.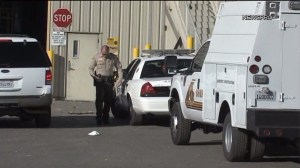 The incident was reported just before noon in the 17000 block of Abbey Lane (map), where workers had found the baby's body wrapped in a blanket, according to Cpl. Randy Naquin of the sheriff's department.
The address is the site of Burrtec Waste Industries, a waste company based in Fontana. A company spokesman did not immediately respond to a request for information about the incident.
Sheriff's department spokeswoman Jodi Miller told the Victorville Daily Press that the San Bernardino County Fire Department was called to Victor Valley Materials Recovery Facility at the Abbey Lane address.
Homicide detectives were also responding to the scene.
An autopsy will be conducted to determine the cause of death.
Homicide Investigators are requesting the public's assistance in locating the child's mother.
Anyone who is aware of a woman that recently gave birth and does not have the child in her possession, is asked to contact Detective Bryan Zierdt at 909-387-3589 or sheriff's dispatch at 760-956-5001.
Check back for updates on this developing story.
KTLA's Rose Razeghi contributed to this report.