This is an archived article and the information in the article may be outdated. Please look at the time stamp on the story to see when it was last updated.
Amid the fourth day of a search for a firefighter who went missing in the remote Sespe Wilderness north of Fillmore, the man's dog was spotted Thursday but got away from searchers, just as the animal had the previous day.
Meanwhile, 11 special agents with the U.S. Immigration and Customs Enforcement's Homeland Security Investigations Rapid Response Team were transported via helicopter to join the search for Mike Herdman, a firefighter with the city of Arcadia.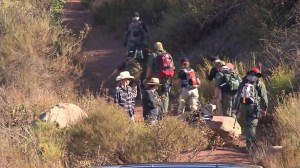 Herdman, 36, was last seen Friday by a friend after the two ran after Herdman's dog Duke near Sespe Creek in Los Padres National Forest. The men had been setting up camp when Duke ran off.
The friend, 27-year-old fellow paramedic Taylor Byars, became separated from Herdman, who had run off barefoot and in a shorts and a T-shirt, with no supplies. When Herdman did not return to camp by morning, Byars began to search for him.
The pair were on a backpacking trip that had begun June 11 and were several days into the wilderness.
"Despite his best efforts and after nearly two days of searching, Mr. Byars made his way out of the wilderness through miles of extremely rough terrain and heavy vegetation and reported Mr. Herdman's disappearance to the Ventura County Sheriff's Office in Fillmore on Sunday evening," stated a Monday evening news release from the Arcadia Fire Department, where both men worked.
The search for the firefighter began Monday morning, based at the trailhead to Tar Creek (map). Authorities soon found Herdman's backpack and footprints.
A dog resembling Duke was spotted Wednesday but ran away from searchers, authorities said. The dog was spotted northwest of Sulphur Peak (map), near Sespe Creek, the Los Angeles Times reported.
Then, again, on Thursday afternoon, Duke was seen.
"One of the search teams is being extracted by helicopter with the dog," the Ventura County Sheriff's Office stated on Twitter.
Then, minutes later, the Sheriff's Office tweeted that the dog had actually gotten away.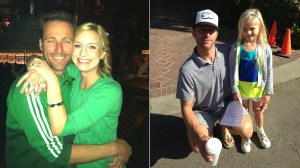 Rescuers said they believed Duke would stay near Herdman, so the sighting gave them hope.
Herdman is physically fit and an outdoorsman familiar with the backcountry, a family friend told reporters on Wednesday. He has extensive backpacking experience in the Sespe Wilderness and the Sierra Nevada, friend and former fire Chief Mike MacGregor said.
Teams from multiple Southern and Central California agencies were searching, many of them being ferried via helicopter into the wilderness.
Two searchers received leg injuries Wednesday while hiking in rugged terrain, and on another team member was bitten by a rattlesnake and taken to the hospital on Thursday.
On Thursday, federal officials announced that ICE agents had joined the search.
"This is what our agents drill for and they're gratified to be able to apply those skills in a real life situation," said Claude Arnold, special agent in charge of HSI Los Angeles.
The federal agents are rigorously trained in survival and rescue skills and wilderness first aid.