This is an archived article and the information in the article may be outdated. Please look at the time stamp on the story to see when it was last updated.
Guns and badges were among the items stolen during a burglary in Boyle Heights that occurred amid a charity football game between two teams of public safety officers, authorities said Monday.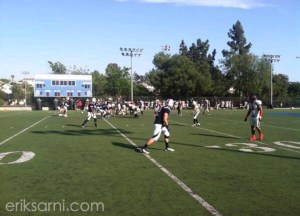 The thief or thieves struck in the locker room area Saturday, during a game at Bishop Mora Salesian High School at 960 Soto St. (map) between an LAPD team and a San Diego-area team, according to Sgt. Gabriel Lara of the Los Angeles Police Department's Hollenbeck Station.
Three handguns, four badges, jewelry and cash were taken from officers' duffel bags in the locker room area at about 5:30 p.m., LAPD Lt. Andy Neiman said.
A game between the LAPD's Los Angeles Centurions and the San Diego Enforcers, which includes team members from several San Diego-area law enforcement agencies, was taking place at the time, Neiman said.
The theft was discovered during half-time, causing a delay, game photographer Erik Sarni said.
"It was over 20 minutes, I was thinking what's going on here?" Sarni said. "The helicopter was overhead."
On Monday, officers and a police K-9 were seen at the school, working near the football field.
The items stolen were taken from San Diego law enforcement and border patrol officers, Lara said. No items were stolen from LAPD officers, he said.
The teams had separate locker rooms and there were no signs of forced entry into the Enforcers room, LAPD said.
"It could have been that they did not know there were off-duty law enforcement personnel there, but it is pretty brazen to break in to a facility during daytime hours with numerous people in the campus," Lara said.
At least one deputy with the San Diego County Sheriff's Department had items stolen, department spokeswoman Jan Caldwell said.
There were no signs of forced entry and the items were stolen from bags that were not inside lockers, police said.
Both teams are nonprofits and play to benefit various charities.
https://twitter.com/LAPDRampart/status/457663215313252353
KTLA's Kimberly Cheng contributed to this article.