This is an archived article and the information in the article may be outdated. Please look at the time stamp on the story to see when it was last updated.
Bail was denied Monday for Enrique Marquez, the longtime friend and neighbor of San Bernardino shooter Syed Rizwan Farook, in a hearing in federal court in Riverside Monday.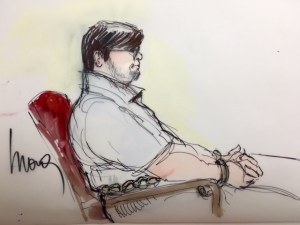 Marquez, 24, has been accused of conspiring with Farook to provide material support to terrorists in 2011 and 2012, making a false statement in connection with the acquisition of firearms, and immigration fraud, the U.S. Department of Justice announced Thursday.
Though Marquez's attorney said his client was neither a threat to the community nor a flight risk, federal magistrate Judge David T. Bristow denied bail at the request of prosecutors.
Marquez's mother was in the courtroom at U.S. District Court in Riverside, but she and other family members declined to speak to news media after court proceedings.
His family had planned to put up all their equity in their home to pay for Marquez's bail.
Bristow said he didn't think Marquez planned to flee, but the magistrate expressed concern about the defendant's alleged past attack plans. Those plans were reason to keep Marquez behind bars, the judge said.
"The grave harm that is presented to the community by that conduct was demonstrated on Dec. 2," Bristow said, in reference to the mass shooting at Inland Regional Center, according to the Los Angeles Times. "The gravity of such conduct… is such that at this point of time the defendant has not rebutted the argument that he is a danger to the community and he continues to pose that danger."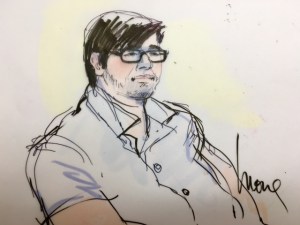 Some of the charges against Marquez stem from conversations that began in 2011 between him and Farook in which the pair allegedly conspired to plot attacks against Riverside City College and drivers on the 91 Freeway.
Marquez and Farook laid out a plan to drop pipe bombs in the cafeteria at the college then stand on an elevated platform and shoot students as they fled, according to the U.S. Department of Justice.
They had also discussed throwing pipe bombs on the 91 Freeway to bring traffic to a stop during rush hour traffic.
Farook would then walk among the vehicles and shoot into them while Marquez fired from a nearby hillside and awaited law enforcement. When authorities arrived, Marquez intended to begin shooting at them as well, court documents stated.
Investigators say Marquez provided Farook with weapons used in the Dec. 2 terrorist attack at the Inland Regional Center in San Bernardino that left 14 people dead.
While Marquez was apparently unaware the San Bernardino attacks were being planned or going to take place, authorities say Marquez's purchase of the firearms and failure to warn authorities about Farook's intent to commit mass murder had fatal consequences.
The immigration charges come from an alleged sham marriage between Marquez and a member of Farook's extended family in order to obtain legal status for her in the U.S.
Two other court dates have already been scheduled for Marquez: A preliminary hearing was planned for Jan. 4, and arraignment was set for Jan. 6.