This is an archived article and the information in the article may be outdated. Please look at the time stamp on the story to see when it was last updated.
What should have been a dream vacation for Bakersfield couple Brian and  Shimeaka Hodges became a nightmare after he was seriously injured in a ziplining accident at a popular tourist destination in Cabo San Lucas, Mexico.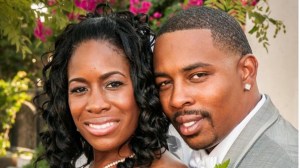 The Hodges traveled to Mexico to celebrate an anniversary and celebrate Shimeaka's birthday when they decided to go ziplining at "Wild Canyon," which is billed as the safest zipline around.
Calvin Black, a friend of the couple, said he saw Brian on the zipline about 20 feet away from the mountain.
"I could see he's too close, way too close," he said.
Suddenly, a gust of wind spun Hodges' body and slammed him into a cliff at about 40 mph.
"I'm running down the ramp to grab him, and we're pulling him up," Black said. "And we're trying to lift him together out of the harness, and we're screaming at him, like 'Brian, Brian, wake up, wake up, talk to me, talk to me, say something, and Shimeaka's praying."
Shimeaka, who had just finished ahead of him, had witnessed the collision.
"I saw his lifeless body, standing, just trying to wake him up," she told KTLA in a phone interview.
Brian was unconscious and had sustained major injuries. His ribs, back, and neck were all broken. He also had suffered severe head trauma that left him in coma.
To make matters worse for the couple, Brian's international insurance only covered 50 percent of what he needed, and the hospital he was being treated at in Mexico wanted the other half up front.
Shimeaka was left with no other choice but to pay out of pocket to cover his emergency medical costs.
"They wouldn't even start the surgery unless I gave them the $50,000 right then and there," she said. "Once they got it off of my credit card, then they went ahead and called and got a surgery team together."
As of Wednesday night, the Hodges were still stuck in Mexico with mounting medical bills because Brian's brain swelling was too severe to fly.
The couple received another $28,000 bill, and Shimeaka Hodges wasn't sure how the couple was going to pay it.
A Go Fund Me page has been set up to help cover the couple's medical costs, and had raised nearly $17,000 as of Wednesday evening.