This is an archived article and the information in the article may be outdated. Please look at the time stamp on the story to see when it was last updated.
A Banning man convicted of sexually assaulting children between the ages of 5 and 11 was sentenced to 125 years to life in prison, the San Bernardino County District Attorney's Office said Thursday.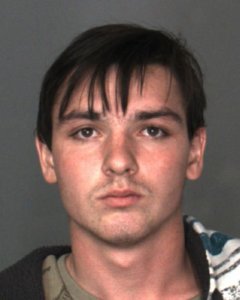 Last Month, jurors found 25-year-old David Goodman guilty on multiple charges, including four counts of lewd acts upon a child, three counts of oral copulation or sexual penetration, and a count of possessing child pornography, according to a DA's Office news release.
Goodman had been employed at Disneyland for several months beginning in August 2014 when he was arrested in December of that same year the San Bernardino County Sheriff's Department said in a statement at the time.
A Disney spokeswoman refuted the timeline, however, telling KTLA on Friday that he had only worked there for two months, from October 2014 to December 2014.
Goodman also volunteered at a children's theater group, according to prosecutors.
The defendant — then 21 years old — was taken into custody after authorities received a report that he was masturbating in front of two boys, ages 6 and 9, at a home in Yucaipa, the sheriff's statement read.
Deputies interviewed the two boys, as well as a 5-year-old girl and one of the boys' mother, who all disclosed sexual abuse by the suspect on at least two separate occasions within the several months prior.
When the crimes occurred, he was friends with two mothers in their early 30s, who each had children. according to Deputy DA Melinda Spencer.
"In a detailed confession letter, the defendant mentioned the best way to gain access to kids was by befriending single mothers who he described as 'easy targets,'" Spencer said in the release.
Evidence introduced during the trial revealed that Goodman had saved a "manual" entitled "How to Practice Child Love" on his computer, prosecutors stated.
The victims testified during the trial and were provided comfort by a victim advocate and  K9 Dozer.