This is an archived article and the information in the article may be outdated. Please look at the time stamp on the story to see when it was last updated.
President Obama's first destination as a former president will be one that has become a favorite of the first family: Southern California.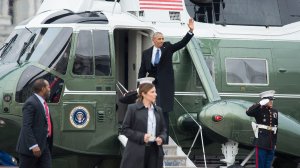 The Obamas will travel to Palm Springs on Friday following the inauguration of President-elect Donald Trump, the White House confirmed Tuesday. As is custom, the outgoing president is afforded one final trip aboard the presidential aircraft, called Air Force One when the officeholder is aboard.
After Trump's swearing-in, Obama will depart from the Capitol aboard the presidential helicopter, known as Marine One when carrying the chief executive, en route to Joint Base Andrews, where he will make remarks to staff before heading across the country.
The White House did not offer additional details about the Obamas' plans once they arrive. For months, Obama was circumspect about his first destination as an ex-president, saying only that he intended to travel someplace warm.
Click here to read the full story on LATimes.com.