This is an archived article and the information in the article may be outdated. Please look at the time stamp on the story to see when it was last updated.
Los Angeles SWAT officers found an individual dead of an apparent gunshot wound after a police shooting led to an hourslong standoff at a Motel 6 in Hollywood Thursday.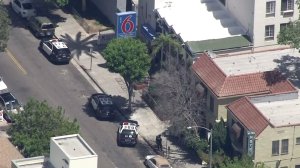 The incident began about 11 a.m., when police were called a report of an assault with a deadly weapon suspect in the 1700 block of Whitley Avenue, near a popular tourist area along Hollywood Boulevard.
Witnesses told arriving officers a "suspect" was armed with a gun, LAPD Sgt. Barry Montgomery said. Officers made contact with the individual and "at some point, an officer-involved shooting occurred," Montgomery said.
The sergeant did not describe what led police to fire on the man, or provide any details of the shooting, including how many officers fired.
The individual barricaded himself in his room, Montgomery said.
SWAT officers arrived and tried to contact the individual but got no response. They used "special optics" equipment and could see that he was unresponsive.
SWAT paramedics went into the room and pronounced the individual dead, Montgomery said. He appeared to have died from a gunshot wound, but police don't know if the fatal injury was self-inflicted or from the officer shooting, according to Montgomery.
No one else was injured. The individual's identity was not released, nor was any description of him other than his gender.
Several people who were at a Motel 6 said they heard multiple shots fired and were evacuated from the motel. A witness said prior to the gunfire he heard an argument and then was told the leave the motel.
"I woke up; there were just cops at the door, armed. They said, 'You gotta leave,'" a young man named Gabriel recounted. "We went to the lobby and all of sudden there were like three, four shots fired off. … They said, 'You've gotta leave the entire building.'"
During the standoff, police urged people to avoid the area "for your safety" due to a "barricaded suspect."
A group of people surrounded the standoff location at one point, and officers were trying to get them to disperse. Whitley Avenue was blocked by police vehicles, aerial video from Sky5 showed.
Hollywood Boulevard was shut down between Cherokee and Wilcox avenues.
LAPD's Force Investigation Division, which examines officer-involved shootings, is working on the case.
#LAPD: For your safety, PLEASE avoid the 1700 Block of Whitley in Hollywood for a barricaded suspect. PIO on the way. Media staging TBA.

— LAPD HQ (@LAPDHQ) July 27, 2017