This is an archived article and the information in the article may be outdated. Please look at the time stamp on the story to see when it was last updated.
A Barstow father is fighting for his life at a hospital after he was shot eight times while checking on an elderly neighbor during a break-in last week, authorities said.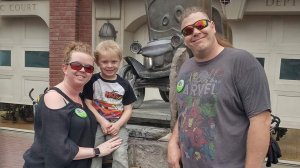 Patrick Smith was shot and severely wounded about 6:50 p.m. Wednesday during a burglary at a home in the 800 block of Keith Street, according to Barstow Police Department officials and the victim's wife, Elizabeth Smith.
The 41-year-old father of a 5-year-old son has been hospitalized in an intensive care unit since the attack, Elizabeth Smith said.
Police determined the man was shot while helping a neighbor.
"Detectives learned that while officers were searching for the burglary suspects, the owner of the residence where the shooting occurred called her neighbor and requested that he check her residence because she heard noises outside," Barstow police Capt. Andrew Espinoza Jr. said in a written statement.
"The neighbor, who is the victim of the shooting, walked to the side of residence where one of the burglary suspects confronted him and shot him," he said.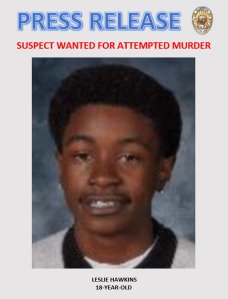 Responding officers arrested four teenage boys nearby in connection with the break-in, police said. But the alleged gunman, who has been identified as 18-year-old Leslie Hawkins, remains at large.
Elizabeth Smith said her husband is fighting hard at the hospital. He has undergone multiple surgeries and was recently removed from breathing ventilators.
"He is staying strong and pulling through. He went in with eight gunshot wounds, a broken thumb/wrist, fractured jaw, split tongue, missing teeth, two collapsed lungs, and almost completely devoid of blood," she said.
"He is still critical and I have spent these nights at his side keeping him going. Please keep him in your thoughts," Elizabeth Smith said.
She urged the shooter to turn himself in.
My husband is the greatest man in the world, has always put others before himself and would do this all over again for any of our neighbors, friends, or family," Elizabeth Smith said.  "I cant imagine my life without this man. He's everything to our son and I."
Officers were already in the area searching for the burglary suspects when the shooting took place, officials said.
"They heard multiple shots fired on the west side of the residence," Espinoza said.
Police soon found Patrick Smith lying wounded, officials said. They also found two boys, ages 15 and 16, hiding nearby and arrested them.
Another 16-year-old boy and a 17-year-old boy were also arrested in the area in connection with the break-in, Espinoza said. The four teenage suspects were booked on suspicion of burglary.
The shooter, identified as Hawkins, eluded capture.
A loaded handgun was found in the backyard where the victim was shot, Espinoza added.
Anyone with information was asked to contact Barstow police Detective Thomas Lewis at 760-255-5187. Tips may also be submitted anonymously to We Tip at 800-782-7469.
Elizabeth Smith said her husband is "a hero to his community and to his family."
An online fund set up to help the Smith family had garnered more than $10,500 in donations Sunday.