This is an archived article and the information in the article may be outdated. Please look at the time stamp on the story to see when it was last updated.
A Huntington Beach man who was beaten in a seemingly unprovoked attack outside Angel Stadium in Anaheim over the weekend was identified Monday as a former Los Angeles Police Department officer, according to Anaheim police.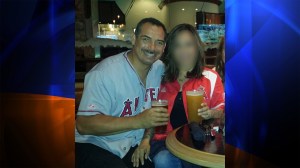 The victim's Huntington Beach neighbors confirmed his name as Alex Arredondo. Multiple pictures posted on his Facebook page show Arredondo clad in Angels gear.
The brutal beating occurred after the Angels lost to the Kansas City Royals in a playoff game on Friday night.
The 43-year-old man was walking in the parking lot with an adult male relative around 10:30 p.m. Friday when he was suddenly assaulted, Anaheim Police Department Lt. Bob Dunn said.
"It blew our minds away," said Arredondo's neighbor, Spencer Gilpatrick. "Such a nice guy. I don't see anything confrontational with him at all. It was a real shock."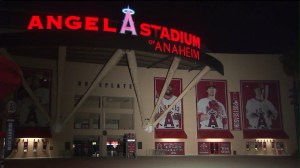 Three men were involved in the attack, which occurred for "seemingly no reason," Dunn said.
"One particular suspect was more of the primary aggressor, if you will, going after the victim," Dunn said Sunday. "The other two seemed to be standing by … weren't trying to help him or stop their friend from beating up this victim."
The victim was rushed to a hospital after being knocked unconscious. His condition was upgraded Monday from critical to serious but stable.

The man's name has not been released, but Dunn confirmed Monday that he was a former LAPD officer.
Police said there was no evidence that any argument occurred prior to the assault, or that it was related to team rivalry. Dunn said he understood both the victim and the assailants were rooting for the same team.
"We are continuing to cooperate with the Anaheim police department's investigation," said Tim Mead, the team's vice president of communications. "We hope for a speedy and complete recovery for the individual involved in Friday's incident."
No arrests have been made in the case. Authorities have also not released descriptions of any of the three men.
"We're fortunate not to have this happen in Anaheim very frequently," Dunn said.
Staffing is increased in the stadium during post-season games, and that was the case during Saturday's incident, he said.
Arredondo's neighbor called such incidents "horrible."
"You go to a baseball game, you figure you're having a good time. You turn around and someone's knocking you in back of the head for no reason at all," Gilpatrick said.
KTLA's Melissa Pamer contributed to this article.
More video: