This is an archived article and the information in the article may be outdated. Please look at the time stamp on the story to see when it was last updated.
A man who has coached basketball at several high schools in the Santa Clarita Valley was arrested Thursday morning after being accused of molesting eight children, according to the Los Angeles County Sheriff's Department.
The investigation began last month with an allegation by one victim against 34-year-old Jeremy Haggerty, according to a sheriff's news release.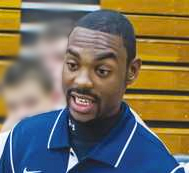 While investigating, detectives identified seven other alleged victims, bringing the total number in the case to eight, the release stated.
According to Sgt. Brian Hudson, all eight victims were male high school athletes between the ages 14 and 18. The alleged victim who first came forward is now an adult.
The alleged abuse dates back to 2008, according to the release.
All of the juveniles were coached by the suspect while he worked as a basketball coach at several Santa Clarita Valley high schools, although the department did not specifically name any.
According to the Santa Clarita Valley Signal, Haggerty began working on-and-off as an assistant coach for Canyon High — where he was a star player in his own his school career — in about 2004, then was hired by West Ranch High as an assistant coach during the 2012-13 season. Then in 2014, he signed on as the head coach at Trinity Classical Academy.
Hudson said Haggerty would groom both the children and their families, which eventually led to the parents allowing him to be alone with their children inside their homes.
"Unfortunately, that's where a lot of our crimes in this case took place: inside the residences of our victims," Hudson said.
He also allegedly told players and their parents that his teaching methods that included physical treatment mirrored college programs and the pros.
"He would tell them I need to perform some 'body maintenance' on you, and that was another term essentially for massaging," Hudson told KTLA. "He would get the kids alone, have them disrobe and essentially perform massages on them that eventually led to him touching them inappropriately."
Haggerty was booked into jail where he is being held on $1.2 million, sheriff's officials said. He is scheduled to be arraigned Monday.
A booking photo has not been released.
An investigation is ongoing, and anyone with information is urged to call the sheriff's Special Victims Bureau's tip line at 877-710-5273 or by emailing specialvictimsbureau@lasd.org.
Anonymous tips can also be left through Crime Stoppers by dialing 800-222-8477 or through the website LACrimeStoppers.org.