This is an archived article and the information in the article may be outdated. Please look at the time stamp on the story to see when it was last updated.
This desert landscape has long been an enclave of nature lovers, artists, seekers and misfits of every stripe, drawn as if by a magnetic vortex to its otherworldly landscape of weather-sculpted rocks and forests of the spindly icon for which the reputedly chill town is named.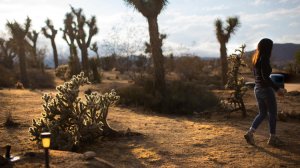 In recent months, though, Joshua Tree's peace has been shattered by a debate over a neighbors have been at each other's throats over a local meditation retreat's plan to jump on the desert music festival bandwagon — a decision its director this week said she would reverse, after the organization's Desert Daze concert in October.
Nestled on a 400-acre spread along California 62, about 30 miles north of Palm Springs, the Institute of Mentalphysics has, since 1941, focused on teaching a combination of breathing techniques and spiritual awareness that its website calls "the science of the future" and a "Super Yoga."
In March, however, the institute surprised the community by hosting its first rock festival.
Click here to read the full story on LATimes.com.