This is an archived article and the information in the article may be outdated. Please look at the time stamp on the story to see when it was last updated.
A Walnut Creek woman seen on surveillance footage with a young son she is accused of abandoning at Union Station was charged with child endangerment on Monday, L.A. County prosecutors said.
Dava Denise Webster, 31, faces a felony charge of child endangerment after her 6-year-old son, whose name authorities have not released, was found alone at the downtown Los Angeles train depot last Wednesday evening, on the Fourth of July.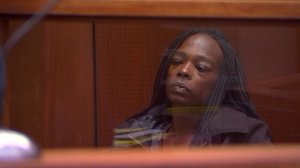 Webster pleaded not guilty on Monday, the Los Angeles Times reported.
Police officers who responded to the unaccompanied boy around 7 p.m. that evening had difficultly communicating with the child, but he was eventually reunited with a family member the next day, July 5. His mother, meanwhile, was arrested upon returning to the station nearly 24 hours after she is accused of leaving him, according to the district attorney's office.
Others at the transit hub that day saw the 6-year-old sitting with a woman at a station restaurant for about four hours before the woman got up and left, according to the Los Angeles Times.
Adrienne Garrett, who saw the boy being abandoned, previously told KTLA the woman he was with "just literally walked straight through the doors and didn't even acknowledge it at all."
Webster is next scheduled to appear in court for a preliminary hearing on July 20, the DA's office confirmed.
She was being held on $100,000 bail, but if she were to be released on bond she would be barred from making contact with her son, officials said.
If convicted as charged, she could face up to six years in state prison, according to prosecutors.
Los Angeles police are continuing to investigate the case.