This is an archived article and the information in the article may be outdated. Please look at the time stamp on the story to see when it was last updated.
A state of emergency was declared in Napa following an earthquake with a magnitude of 6.0 that shook the Bay Area early Sunday and left as many as 200 people people injured, structures and roadways damaged, and many without power.
The large temblor, which struck about 3:20 a.m., was centered about 6 miles southwest of Napa, the U.S. Geological Survey reported. It hit at a depth of about 7 miles and lasted between 10 to 20 seconds.
The quake was the strongest to hit the Bay Area in nearly 25 years, according to USGS.
At least 125 people were hospitalized, including two adults and one child who were listed in critical condition, the city of Napa's website reported.
A Napa city official said the serious injuries were believed to have been caused by falling debris.
Most of the other injuries were minor and not considered life-threatening.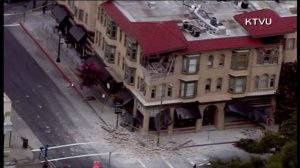 Residents from San Francisco to Sacramento reported feeling the shaking, according to responses on USGS's website.
Describing what it felt like, Bay Area resident Michael Kline said the initial shaking jolted him right out of bed.
"The initial jolt woke me up out of bed, but there was a slow rumbling," he told KTLA. "I think the scariest part was simply waiting to see how bad it was going to get."
Kline added that his two young children slept through the quake.
Dozens of aftershocks hit the area following the strong quake, according to USGS. The largest one measured 3.6.
David Oppenheimer, a USGS seismologist, described the initial aftershock activity as being normal.
"Indication so far is that the aftershock activity is somewhat as we would expect, which means that we will continue to have aftershocks. We may have even larger –even up to magnitude-4.0, or possibly even magnitude-5.0 – that would still be considered typical for this type of sequence," Oppenheimer said during a news conference.
USGS estimated that there could be dozens of aftershocks measuring between 3.0 and 5.0 in the area over the next week.
Several small fires broke out throughout Napa County as a result of the temblor, Cal Fire reported. Video from the scene showed several mobile homes fully engulfed in flames.
Four mobile homes were destroyed in the fire, according to Napa's website. Fire crews were able to extinguish blazes that broke out in two other residential neighborhoods.
Aerial video also showed multiple structures, homes and roadways were damaged in the earthquake's aftermath. Thirty-three buildings in Napa have been red-tagged as of Sunday evening, the city's website stated.
Napa sustained extensive damage, according to Napa County Supervisor Mark Luce.
"Particularly in the downtown area of Napa, we have a lot of retrofitted buildings that didn't survive so well," Luce told KTLA. "I think we're just fortunate that the earthquake occurred when it did. Nobody was injured, at least seriously, by what was going on downtown."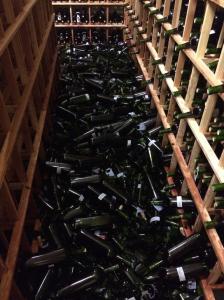 Crews were working to fix some 60 water mains that broke in the area, according to the city's website.
There were at least 100 reports of gas leaks or odor of gas; all were resolved as of 8:18 p.m.
Roads in the region were also damaged, including State Route 121 at State Route 29, and State Route 121 at Cuttings Wharf, according to the California Highway Patrol. Most roadway damage was confined to the Napa and Sonoma areas, according to the agency.
CHP checked bridges in the area and found that none were damaged.
Power outages have also been reported in Napa and Sonoma counties, according to CHP.
Luce encouraged residents to stay in their homes.
"We really encourage citizens to stay in their homes, and allow emergency workers to get to where they need to go, to do what we need to do," he said. "We still are concerned about power lines and gas lines breaks, and so it's best to stay at home."
A state of emergency was declared by Gov. Jerry Brown around 9:30 a.m.
Earlier, Brown said in a statement that the state's Office of Emergency Services was "on full activation."
"My Office of Emergency Services has been on full activation since early this morning and is working closely with state and local emergency managers, first responders and transportation officials to respond to impacts to residents and critical infrastructure," the statement read. "These public safety officials are doing all they can to help residents and those living in affected areas should follow their guidance and instruction."
The quake was the largest temblor in the area since the 1989 Loma Prieta temblor, which struck during the World Series.
KTLA's John A. Moreno contributed to this report.
 More Video: