This is an archived article and the information in the article may be outdated. Please look at the time stamp on the story to see when it was last updated.
A quick-thinking, fast-acting teacher's aide in Northern California has been credited with thwarting the alleged kidnapping of an 11-year-old girl on Friday, according to a local television station.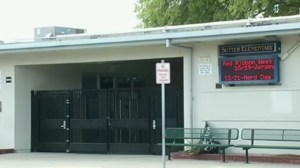 Sandra Ferguson was on her way to Sutter Elementary School in Antioch, where she works, when she noticed a student sitting in the front of a car with an unknown middle-aged man, KGO-TV reported. Ferguson recognized the young girl, and said she looked scared.
Thinking something wasn't right, she started speaking to the student.
"I said, 'Sweetheart, is that your dad?' And she told me, 'No he's a friend.' And I said, 'No, he is not. He's not your friend,'" Ferguson told the station.
She instinctively decided to act.
"I put my car in front of his car, I blocked him in, and I told her, 'You get out of that car right now,'" she said.
Ferguson then alerted police, who came and arrested the man on suspicion of kidnapping, the television station reported. He has been identified as 51-year-old Santiago Salazar.
"It was kind of like a superwoman power thing … It was like, 'Wow, I can't believe I did that,'" Ferguson told KGO.
The young girl was not injured in the incident. Police said she did not know the suspect.