This is an archived article and the information in the article may be outdated. Please look at the time stamp on the story to see when it was last updated.
Two bear cubs were caught on camera taking a dip in a water-filled planter in the backyard of a Pasadena home Tuesday.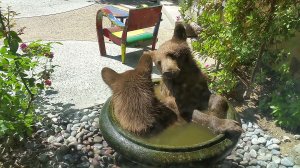 The video, submitted by Sainty Wang and Carlos Chavez, was shot from behind a sliding glass door as the cubs splashed around in the birdbath.
It's not uncommon to see bears cooling off in swimming pools as the summer temperatures climb, but these two cubs found the outdoor planter to be a bit more comfortable.
The cubs were not unsupervised however, as Wang and Chavez also managed to capture photographs of an adult bear keeping a close eye on them in the backyard.
The video ends with the cubs jumping out of the bath before all of the bears run out of the yard.