This is an archived article and the information in the article may be outdated. Please look at the time stamp on the story to see when it was last updated.
A bear that was discovered in a residential area of Ventura was tranquilized and relocated Wednesday afternoon, police said.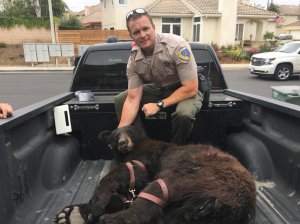 After a call to police about the "subject trespassing," officers found the 3-foot-tall, 250-pound bear in the area of Solano Street and San Bernardino Avenue, the Ventura Police Department said in a Facebook post making light of the encounter.
The bear was found hiding in the backyard of a home where officers were able to "tale the subject into custody" with the help of California Fish and Wildlife officials, the post stated.
"The trespasser is currently sleeping peacefully and being relocated to a wooded area far north of the city," the post said.
Officers posed for photos with the animal;  one image was captioned, "Prowling suspect apprehended and safely relocated."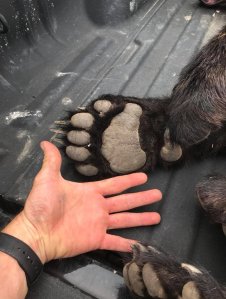 In a response to a question on Facebook, authorities added the bear was "tranquilized and treated humanely" and that the animal was not awake while the officers "documented this incident."
The comment from the Police Department noted it's unusual for a bear to be spotted in that area.