This is an archived article and the information in the article may be outdated. Please look at the time stamp on the story to see when it was last updated.
A bear took a dip in a backyard pool in Bradbury and had a confrontation with a dog, video from Sky5 showed Tuesday.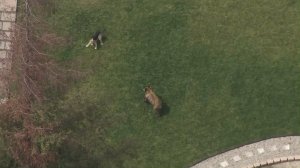 The bear walked onto a property in the area of the 2100 block of Gardi Street around 2:40 p.m. The animal later moved toward the area of Oak Shade Road, a small cul-de-sac.
Video from Sky5 showed the animal exploring the backyard before going for a swim in the pool and walking over to the basketball court.
At one point, a dog ventured toward the bear, which in turn started walking toward the canine just after 3 p.m. The dog, however, held its ground, and the bear eventually left the yard.
The dog's owner, Bradbury resident Eddie Hsu, said the incident was frightening but was proud of how his canine, Ba Bao, protected their home.
"He's the hero," Hsu told KTLA He's my hero today."
He said his family adopted Ba Bao — whose name means "meat bun" in Taiwanese — about a month ago from the Palmdale Animal Control Center.
The situation was especially concerning considering Hsu's kids would have usually been playing outside at that time of day.
"It's very frightening of course. We didn't expect this confrontation," he said. "I have small children. They play in the backyard every day in the afternoon."
Following its confrontation with Ba Bao, video footage shows bear hopping over a fence and knocking over trash cans in the area before heading into a cluster of trees behind a home where officials lost sight of the animal.
Another resident, Mike Tavakkoli, said at one point the bear ventured into his garage, emptying his fridge and leaving belongings in a state of disarray.
"They broke into the garage," Tavakkoli said. "They went into the refrigerator and ate all the food and made a mess out of the garage."
A Los Angeles County Sheriff's Department patrol vehicle pulled up in the area of nearby Spring Point Drive just after 3:30 p.m.
Deputies appeared to have left the area by the time the bear reappeared on a patio wall in the neighborhood around 3:50 p.m.
Video from Sky5 showed three people in the area walk near the bear and begin taking pictures of the animal as it sat under a tree.
No details from authorities were immediately available.
Bradbury is a gated city in the foothills of the San Gabriel Mountains.