This is an archived article and the information in the article may be outdated. Please look at the time stamp on the story to see when it was last updated.
A bear that was injured after being struck by a vehicle on the 210 Freeway in La Verne Monday morning had to be euthanized because of its injuries, officials said.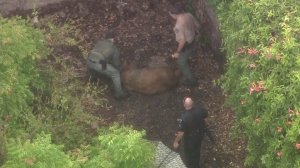 The female bear suffered a broken leg and a dislocated ankle, Dr. Cynthia Kinney of the Inland Valley Humane Society in Pomona, where the bear was taken, said.
"The difficult decision was then made," James Edward at the Humane Society told the San Bernardino Sun.
Dr. Cynthia Kinney said it was unlikely that the bear would survive in the wild with her injuries and that the decision was made by several agencies to put her down. She described the situation as "unique" and sad.
The incident was reported about 7:40 a.m. on the eastbound lanes of the highway near the Fruit Street exit. The bear, believed to have weighed about 300 pounds, made its way to a nearby embankment after being struck, La Verne Police officials said in a news release.
Responding officers saw the bear limping and laying down. Aerial video from Sky5 showed the bear in some bushes near the exit of the freeway and was limping away as a California Fish and Wildlife warden went toward it with what appeared to be a tranquilizer gun.
The bear was hit by tranquilizer darts on its rear and back and was eventually subdued, video showed.
The California Highway Patrol closed the Fruit Street ramp to the west 210 Freeway while wildlife officials trapped the bear. Residents were being asked to stay indoors if the bear wandered into their yards.
Monday's incident was the third bear encounter in Southern California in one week. A bear took a swim in a Bradbury pool last Tuesday and a bear was subdued and taken back to the Santa Rosa Mountains Sunday after being spotted in Indio.
Lt. Ron Hoffman of Fish and Wildlife said it is not uncommon for bears to wander away from mountains.
"They live here, just like us," Hoffman said.
The agency maintains a list of precautions and safety measures that those who reside in bear country should take.
KTLA's Jennifer Thang contributed to this story. 
SIGALERT ISSUED IN LA VERNE. FRUIT STREET ON-RAMP TO WB I-120 IS CLOSED FOR AN UNKNOWN DURATION DUE TO POLICE ACTIVITY

— CHP PIO – LA County (@CHPsouthern) May 15, 2017