This is an archived article and the information in the article may be outdated. Please look at the time stamp on the story to see when it was last updated.
A small black bear that injured a camper in Millard Campground in the Angeles National Forest above Altadena over the weekend has been euthanized, Fish and Wildlife officials announced in a tweet on Wednesday.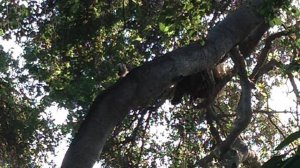 The bear was apparently trying to get into a tent on Saturday while a camper was inside and ended up knocking it down, the Los Angeles County Sheriff's Department's Altadena station stated at the time.
It appeared the bear scratched the camper while clawing at the tent.
The man inside did not realize he had been injured until he felt something dripping on his face, according to a Facebook post by the Sheriff's Department on Tuesday.
The camper was left with a large cut on his forehead, the post stated.
The man was taken to a hospital where he received more than a dozen stitches.
Two other campers saw a 120-pound bear running away from the area.
The California Department of Fish and Wildlife ordered the campground closed for 72 hours after the incident.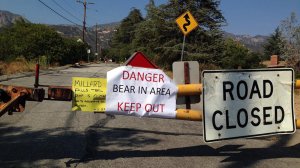 The bear was later tracked down and captured. DNA was used to link the bear to the campsite before she was euthanized, officials said.
Generally, nuisance bears are captured and relocated, but since this bear had human contact wildlife officials said they could not take the chance it might happen again.
"We have to assume that the bear had no fear of humans and crossed that line," said Lt. JC Healy with Fish and Wildlife.
The bear was described as a 2-year-old female.
Millard Trail Camp is located only a half-mile north of homes in Altadena, according to the U.S. Forest Service.
The campground is often closed due to bear activity, officials said.