This is an archived article and the information in the article may be outdated. Please look at the time stamp on the story to see when it was last updated.
Two adult female black bears were successfully released back into the wild last week after being treated for burns from the Thomas Fire with tilapia fish skin.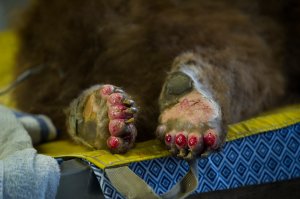 The animals, along with a 5-month-old mountain lion, were taken to a state wildlife lab outside Sacramento for treatment after they were found injured with burns from the Thomas Fire, which burned through Ventura and Santa Barbara counties. The blaze began Dec. 4 and became California's largest wildfire on record, at 440 square miles.
Jamie Peyton, chief of the Integrative Medicine Service at UC Davis's veterinary medical teaching hospital, was consulted by the California Department of Fish and Wildlife to manage the bears' pain. Peyton decided to try sterilized tilapia skin in addition to acupuncture, chiropractic care and a host of other treatments to speed up the animals' recovery, according to a UC Davis news release sent out Wednesday.
Veterinarians wanted to prevent the bears from growing accustomed to captivity and to get the older bear back into the wild in time to give birth.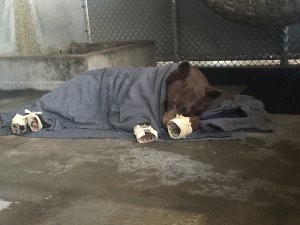 Shortly after the fish skin was sutured onto the bear's paws, they were able to stand for the first time since they were brought to the lab, Peyton said. In a few weeks, the bears had grown back the skin on their badly burned paws, and the tilapia skin was removed.
Tilapia skin can be used in place of a bandage and can be changed every 10 days, making it easier and faster to treat a wild animal.
The mountain lion was also treated with tilapia skin when it was brought into the lab on Dec. 22.
Researchers in Brazil experimented with tilapia skin on human burn victims in May of last year, according to Reuters. They found that the high levels of collagen in tilapia skin made it easier and less painful for victims to heal. The fish skin is also relatively inexpensive, Peyton said.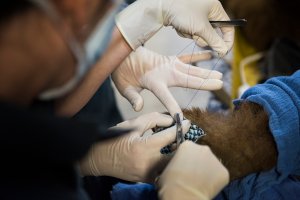 The bears' treatment marks the first time tilapia skin has been used in to treat burns in the U.S.
"When there's a will there's a way," Peyton said. "When someone says, 'You can't,' I always think to myself, 'Oh, I will.'"
The bears were released Jan. 18 into new dens created by the state wildlife department in the Los Padres National Forest because their habitat was destroyed, the release stated. The bears are outfitted with a satellite collar so that the department can follow their movements and monitor their health.